Reading Time:
10
minutes
If you are new to the idea of blogging, then one of the words that scares you the most is 'web hosting'. It sounds too technical, does not conjure up an image in your mind, and all the jargon used on the websites of various web hosts confounds you even more.
So here, we have put together everything that you need to know about web hosting to understand it better, and thus, help you make an informed decision while choosing a web host for your blog or site.
What is Web Hosting?
Web hosting a blog or site means making the blog or site available on the internet for the public to read. It's like putting your book out there in shops where people can come across it and pick it up. Just like the book needs some space to sit on the shelf, waiting for people to look at it, similarly, your blog needs some space on the World Wide Web. This space is provided by a computer called web server.
So, web hosting essentially means buying some space on a web server to hold your blog and make it accessible online whenever someone comes looking.
What is Web Server?
A web server is a computer on which all the blog posts, text, images, videos, links and other content that make up your blog are all stored. And as its name suggests, the server serves all this content to the readers through the internet.
Who is Web Host?
A web host or web hosting service is a person or company, who owns web servers and rents out server space to bloggers and site owners like you, so that you can host your blog or site and make it accessible to all netizens.
HostGator, BigRock, GoDaddy, BlueHost are some popular web hosting services currently available out there.
To put it simply, if your blog is a book, the web host is the bookshop that keeps a stock of your books and makes it available to all interested readers, and the web server is the shelf space that your book takes up in the bookshop.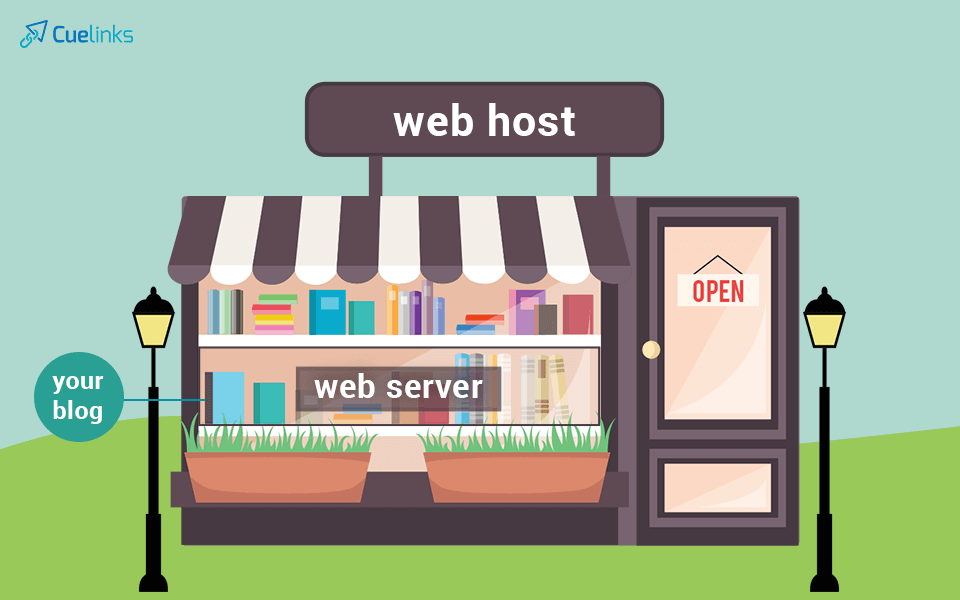 What are you basically paying for when you buy a web host package?
As someone new to blogging or website creation, it is highly likely that a lot of the things mentioned on a web host service are difficult to understand.
So, here's an explanation of the terms that you are likely to come across while choosing a web host for your blog:
Disk Space
As explained above, server space or disk space to store and host your blog is the chief product offered by web hosting services. Disk space is the amount of storage space provided to you by your web hosting service for all your web files like text, images, audio, video etc. Most major web service providers will offer you unlimited space, which actually means that you are limited to 25% of the entire server space. In most cases, as a beginner blogger this is more than enough for you to host your blog comfortably.
Bandwidth
In web hosting, the term bandwidth means the amount of data that a blog/website can transfer over a period of time. This bandwidth determines how fast or slow your blog will load for a user. If the web host provides you less bandwidth, then your blog will take a lot of time to load and vice versa. Just like disk space, most web hosts, today, offer unlimited bandwidth, which is perfectly sufficient for your newly-launched blog. Other web hosts may provide you different price packages based on how much space and bandwidth you need. For heavier sites or blog, which use a lot more images and videos than usual, you will need higher storage and more bandwidth.
Uptime
Measured in percentage, uptime is the time for which your blog or site stays up and running on the internet. Simply put, if your blog is a shop then uptime is the time during which your shop stays open to serve customers. The longer hours it stays open, the more customers it is likely to attract and the more you are likely earn.
Uptime is one of the most important metrics to measure the performance of your web host. A 99% uptime means your blog may go down for around 7 hours 12 minutes in 30 days, a 99.9% uptime means it may go down for around 43 minutes and 12 seconds in 30 days and a 99.99% means it will experience downtime of around 4 minutes 19 seconds in a month. So, basically, the more 9's after the decimal mean the better uptime offered by the web host. Anything less than 99% means your website or blog would be down a lot more times and this can mean a great loss in terms of visitors as well as earnings, just the way you miss clientele on days when your shop stays closed.
Localised Hosting
Another important factor that determines the speed of your site is the location of your server. Traditionally, all web hosting services used to rent out servers that were located in the USA. However, now most major services offer localised India hosting too, which means that they rent out servers, which are located in India, where most of your users generally are. Why this makes a difference? Say, if a visitor sitting in India clicks on your site or blog, then a server located in US will take more time to receive and process this request as compared to the server located in India. Thus, the closer your server is to your visitor, the faster your site or blog will be.
Domains
When you choose a plan on a web hosting site, the first thing you are asked is whether you already have a domain or not? If you have already bought a domain name then you can simply integrate it on the web host and launch your blog or site. You can also register a domain name from the web host itself. The web host services also let you host more than one domain or website in some of their higher plans. You might need this particular resource if you are planning to launch more websites or blogs in future, which can then be hosted in the same plan.
Technical Support
This is the most important thing for you, because as a newbie you might need a lot of help in learning how to use the web host to launch and run your site. A good web host is the one that provides you with optimum 24×7 live support either on call or chat to help you resolve your queries and issues instantly. Also, you can expect round-the-clock server monitoring, email support, a portal with video tutorials and articles and maybe even a forum, where you can interact with others to get more information.
Programming Services
The website hosting packages also let you create web pages with programming languages including HTML, PHP, ASP as well as databases. Of these, the most preferred ones are PHP language and mySQL database. But you need not worry about this, if you are going to use the one-click WordPress/ Joomla installation option, which includes all the languages you need.
Linux and Windows OS 
Web hosting services also offer you a choice of operating system: Linux and Windows on which your servers run. The major difference between the two is their control panels. A control panel is a dashboard provided to you by the web host to simplify the process of hosting your blog. While, Linux web hosting offers the more familiar cPanel, Windows web hosting uses the Plesk control panel. Both of them offer almost the same features; however, Linux hosting is generally thought to be more easy-to-use. 
Other Services
Some web hosts also offer official email accounts like [email protected]/net/in etc. along with their web hosting packages. You need such email accounts so that your customers or readers know where to reach you. These email accounts are also protected against spam and have many advanced features that allow you to reach out to your visitors easily. Apart from this, you can expect your web host to offer you credits for using some form of advertising on your site; back up options; application hosting i.e. one click installation for various CMS platforms like WordPress, Joomla, Drupal, Magento, Wiki etc.
The Different Types Of Web Hosting On Offer
When you visit a web hosting service you will realise you have quite a few options to consider. So, here's a list of the different types of web hosting available and what they offer:
Shared Web Hosting
This is the first choice of every new blog or site. In shared web hosting, your blog or site is hosted on a server, which is also hosting many other sites, meaning you are sharing the server with various other small websites and blog. Servers owned by web hosting services have very high specifications and storage space. So, these servers can easily host more than a couple of websites at a time by dividing up the space and cost between the sites. In this way, the web host services are able to offer enough server space to new blogs or sites at very affordable prices. However, since the server is share by various other sites and blog, a surge in traffic on one of them may affect the speed of your site, too
The plans are priced at around Rs 400 per month to Rs 900 per month.
Reseller Web Hosting
This is for people like database programmers, web copy writers, graphic designers, internet marketing consultants, web site designers etc., who often offer web hosting to their clients themselves. Web host companies offer their servers on rent to such people, who want to make money by reselling the server space under their own brand. This is reseller web hosting. You need not worry about this, unless you want to earn some money on the side by reselling host space. On the other hand, in case, you are planning to host your site or blog on a reseller web host then you need to research thoroughly to make sure they are honorable and their parent web host is a reputable service.
Cloud Hosting
This is a newer hosting technology, much appreciated for its flexibility. In cloud hosting, hundreds of servers work together like one giant server, and its capacity can be increased at any point by adding more servers. Here you do not rely on a single server, thus making your blog more secure from hackers. It is also very cost effective, because you only pay for what you use since you can easily increase or decrease your server space and bandwidth requirement. If you opt for cloud hosting then the web hosting service can easily accommodate any unpredicted surge in traffic on your blog or site instead of shutting it down, while waiting for you to switch to a bigger server. Thus, you only pay more on days when you expect high traffic.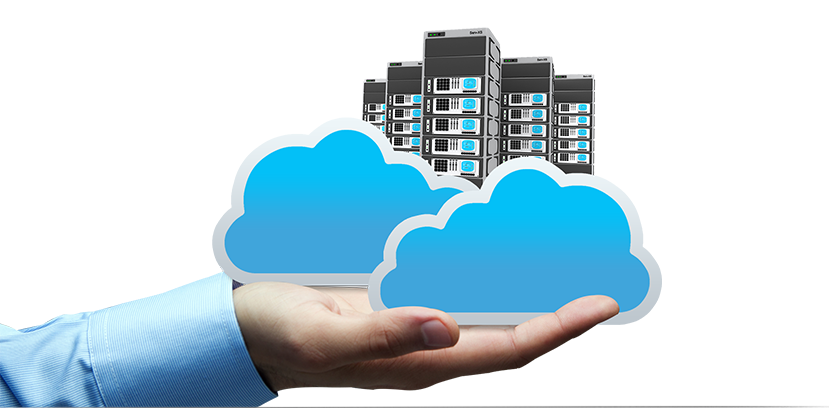 Cloud Hosting can cost you around Rs 400 to Rs 800 per month.
VPS Hosting – Virtual Private Server Hosting
VPS hosting is something you would choose when your blog or site is growing at a good pace but is not yet big enough for you to justify the cost of a dedicated server. Here, too you share the overall server resources with other websites, but the CPU, RAM, HDD and bandwidth that are allocated to your package will always be available for your site or blog only. No matter, what other users on the server do, your VPS plan remains unaffected. You are also given full access and responsibility for your server, just like in a dedicated server, but at a much lesser cost.
The price of VPS hosting ranges from 799 per month to 6,299 per month.
Dedicated Server
Hiring a dedicated server means renting one whole server for your blog or site and having full access over all its resources, with the freedom to install almost any software on it for your blog or site. The plans for a Dedicated Server are priced from Rs 7000 per month onwards, and you may also need to hire a system administrator to take care of all the technical details.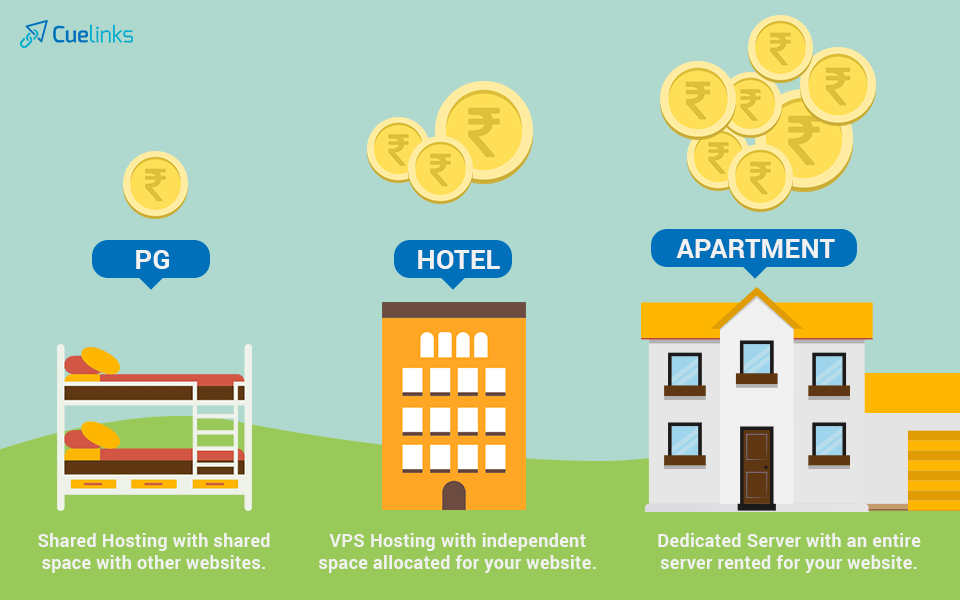 So, while Shared Hosting is like living in an apartment as a PG with eight other roommates, VPS hosting is like living in a hotel, where there are other guests but the room and its facilities are dedicated to you, solely. On the other hand, Dedicated Server is like individually renting an apartment for yourself.
WordPress Hosting
With the exceptional popularity of the blogging platform: WordPress, web hosting companies are now also providing special WordPress Hosting, which offers unlimited space and bandwidth with fully managed website content and a much more simple control panel. In this case, the web host will keep your WordPress installation up-to-date, which can protect it from hackers. This is the least complex hosting plan to pick right now if you are planning to start a blog on WordPress. Its cost starts from around Rs 59 per month and goes up to around Rs 700 per month.
There are two more types of hosting: Colocation and Self Service, however, you need not bother yourself with them for now.
Choosing A Web Host
After you have a good understanding of what web hosting is, the question still remains which service to choose. Most web host companies will offer you unlimited server space and bandwidth under their shared hosting plans, however, the actual service they offer, their ease-of-use and their customer support is what makes a difference.
So, we have prepared a table comparing the various features and services offered by some of the most reputed web hosting companies at present.
The table given below compares the following Shared Hosting plans: HostGator Baby plan, the BigRock Advanced plan, the BlueHost Plus plan and the GoDaddy Delux Plan:
| | | | | |
| --- | --- | --- | --- | --- |
| Service | HostGator (Baby Plan) | BigRock (WordPress Hosting Advanced Plan) | BlueHost.in (Business Plan) | GoDaddy (Delux Plan) |
| Price | Rs 455/ month for 1 year | Rs 249/ month for 1 year (price is lower for 3 years and above) | Rs 329 per month | Rs 309 per month for 1 year |
| Server  Space | Unlimited | Unlimited | Unlimited | Unlimited |
| Bandwidth | Unlimited | Unlimited | Unlimited | Unlimited |
| Email Accounts | Unlimited | Unlimited | Unlimited | Unlimited |
| Uptime | 99.90% | 99.90% | 99.90% | 99.90% |
| Technical Support | 24×7, Phone, Live Chat, Email + Local Language Support + Access to HostGator Forum, Articles, Video Tutorials | 24×7, Phone, Live Chat, Email + Access to Articles, Video Tutorials | 24×7, Phone, Live Chat, Email + Access to BlueHost Forum, Articles, Video Tutorials | 24×7, Phone, Live Chat, Email + Access to GoDaddy Community, Articles |
| Rating | 4 | 4.6 | 4.4 | 4.4 |
| Payment in Indian Currency | Yes | Yes | No | Yes |
| Localised India Hosting | Available | Available (The price of plan may vary) | Not available | Not available |
| Payment options | Debit cards, Credit cards, PayPal, NetBanking | Debit cards, Credit cards, PayPal, NetBanking | Credit cards, PayPal, Cheque, Money Order | Debit cards, Credit cards, PayPal, NetBanking |
| Trial | 45 Days Money Back Guarantee | 30 Days Money Back Guarantee | 30 Days Money Back Guarantee | – |
| Eco-friendly | Yes | Not mentioned | Not mentioned | Not mentioned |
While we have considered only four web hosts in this article due to space and time crunch, you can obviously explore all the options at your disposal yourself, now that you have this article as a guide. If you have any more queries or suggestions on this topic, do let us know through the comments section, and keep a tab on this blog to know more about blogging and marketing it.