Reading Time:
8
minutes
Have you been considering starting a blog since a long time, read various articles on how to do it, asked friends to understand things better but something is still holding you back? Even after numerous reassurances that you don't need a great deal of technical knowledge to get started, you are hesitant. To help you get over that last shred of doubt we bring you this article which takes you through each and every step of setting up a blog on WordPress.
Why WordPress you ask? WordPress is a fan favourite when it comes to blogging platforms, and that comes as no surprise since it is simple to use with a wide range of themes to fit any blog style, be it a personal blog or professional one. It comes out on top of other known blogging sites namely Blogger, Tumblr, Penzu, Weebly, etc. in terms of popularity since it has a large user base, tremendous themes, practical plugins and easy-to-use UI.
Now, if you have already taken the first right step by choosing WordPress, the next choice is between taking the easy way (Free Hosting with WordPress.com), or the self-satisfying challenging way (Self Hosting with WordPress.org). Free hosting is basically, storing all the files and data of the blog and hosting them on the servers of the blogging platform without incurring any cost, and Self Hosting, also known as Paid Hosting, is hosting the files related to your blog on any third party server of your preferred web host, directly financed and managed by you. (You can get more details on Free vs. Self Hosting here). Regardless of which one you plan to choose, if you need help setting up your blog, here is a step-by-step guide.
How to set up a blog using WordPress.com:
Step 1: Selecting a Category
When you go to WordPress.com and click on 'Get Started', you are asked to pick a category depending on what your blog is about.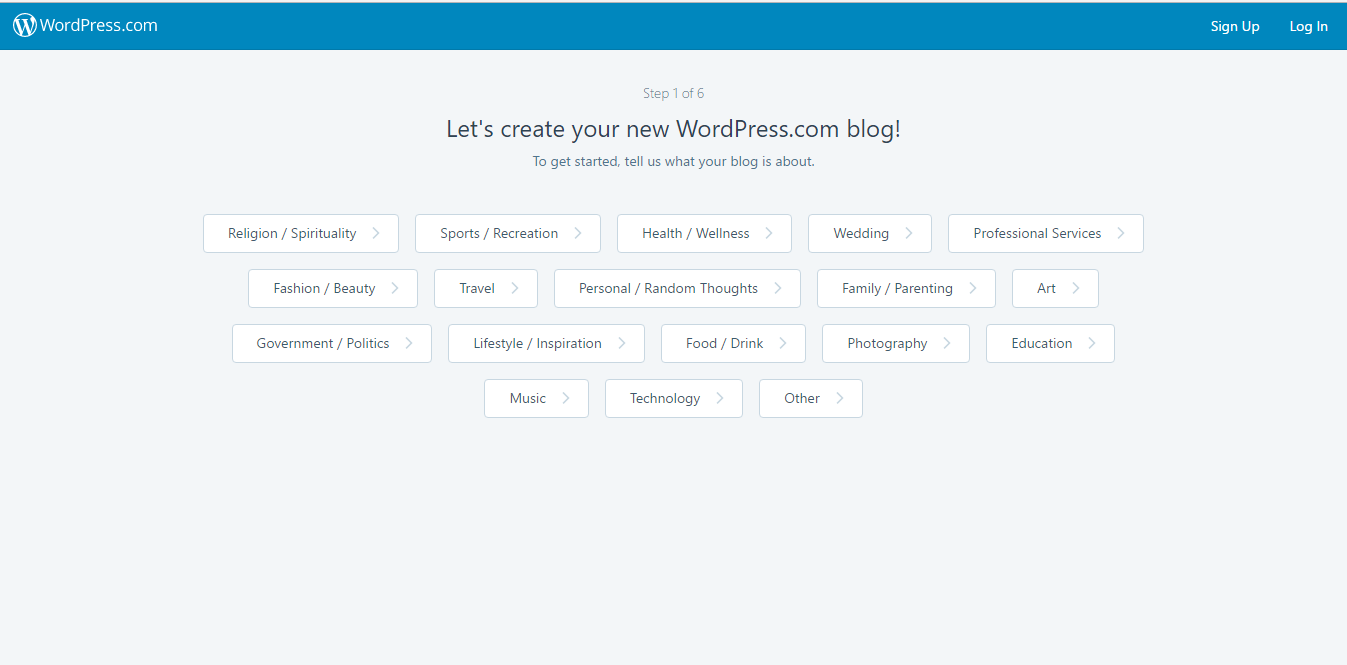 Step 2: Selecting a Layout
Then you can select the layout of your blog, which best suits your chosen category.
Step 2: Picking a Relevant Theme
Next you choose a theme in accordance with the category and the main idea of your blog. You can switch to a different theme whenever you want to in the future.
Step 3: Naming your Blog
Now you move on to choose a name for your blog, which forms its domain name/ URL. Type a name of your choice in the search box and you will be given a list of suggestions for free and paid domain names available.
Once you settle on a name, you can choose to go for an absolutely free blog, which will have a URL like this: 'YourDomainName.wordpress.com'.
If you do not want 'wordpress' to show up in the URL, you can opt for an upgrade.
Step 4: Pick A Plan
When you choose upgrade, you have to pick one of the three plans offered by WordPress, namely: Personal, Premium and Business, available at prices ranging from $2.99 to $24.92. The various features that you get with every plan are listed out under each of them.
Step 5: Login on WordPress.com
Now all that is left to do is create an account with WordPress.com, log in and then you can start blogging to your heart's content.
While, this looks quick and easy to many new bloggers, WordPress.com does not allow you to customise themes, adding plugins, making money from your blog and more. To do all that in WordPress.com, you have to pay for higher paid upgrades. On the other hand, setting up a WordPress.org blog is a slightly more complex procedure, but the wide range of features and benefits it offers for free, makes it worth the effort.
How to set up a blog using WordPress.org:
Step 1: Choosing a Domain Name and a Web Host
A web host in simple terms is the space where your blog resides and from where people find your blog on the internet. In WordPress.com, the blogging platform also hosts your blog; you cannot opt for an external web host, whereas WordPress.org allows you to opt from various third party web hosting service providers like HostGator, GoDaddy, BigRock etc.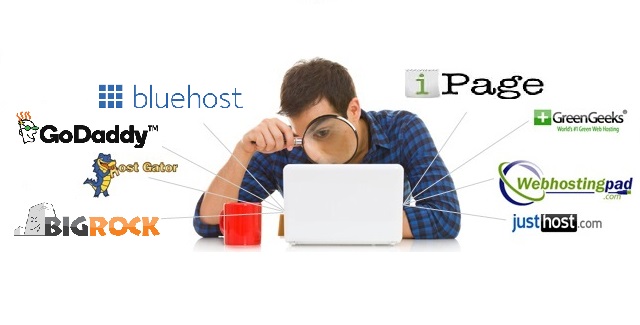 Once you have decided on your web host plan, the first thing you are asked is whether you already have a domain or not? If you have already bought a domain name then you click yes, enter the domain name wherever specified and proceed to make your purchase. If you have not bought a domain name yet, click no and you can find and register a domain from the web host itself. Some web host services may charge you for the domain name, whereas, some may allow you to choose it for free, based on the hosting package you opt for. You can also purchase a domain name through one service and host your blog on another.
After that you need to log in or sign up, remove any extra services the web host has added in the cart, increase or decrease the term of your plan based on your requirements and proceed to checkout. Here, you have to enter your contact details and billing information for security and payment purposes and make the payment. The web host plans are generally offered for 1, 2, 3, 5 and 10 years at a price ranging from $2 to $8 per month, depending on the quality and quantity of services they deliver. Once done, you will receive a confirmation email, with details on how to log in to your web hosting control panel. A control panel is a dashboard with an easy-to-understand UI and automation tools to simplify the process of hosting a blog.
Step 2: Installing WordPress:
Most web host services have a one-click WordPress.org installation process. But, if your chosen web host does not provide this feature, then you need to download the WordPress blogging software from WordPress.org, provided for free, and upload it on your web host account.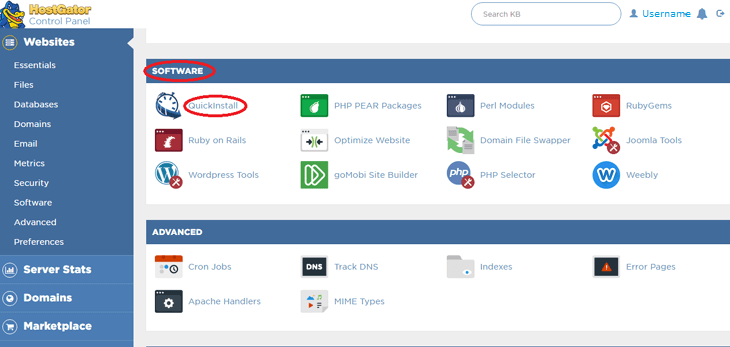 While installing WordPress, you will be prompted to fill in your Domain Name, Site Title and set your Admin Username and Password. Once you have filled these details and checked the boxes which inform you about 'creation of a new database' or 'I understand that installing on this software overwrites the existing files'; WordPress will start installing and on completion, it will display your installation details and give you the WordPress.org Login URL and log in details, with which you can sign in to proceed.
Step 3: Getting a Theme
Upon logging in to WordPress.org; from the right hand side panel, go to Appearances > Themes and feel free to make a selection from a wide variety of beautiful blog designs without incurring any extra cost. Pick a theme that best suits the domain and subject of your blog.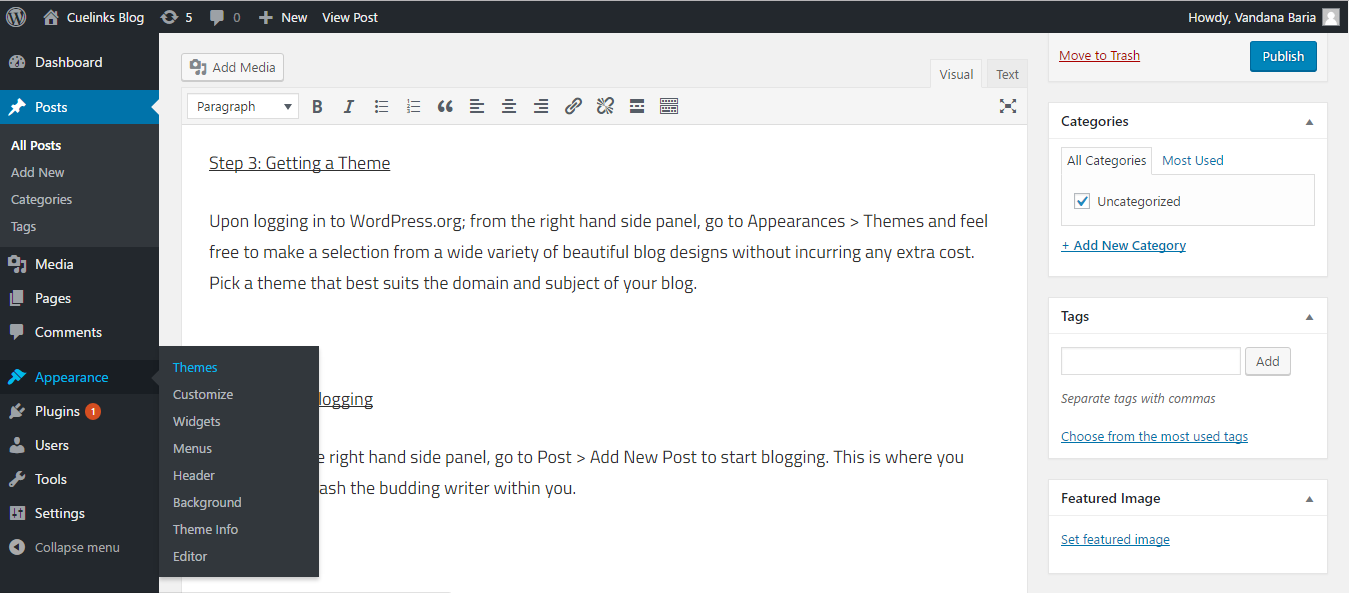 Step 4: Start Blogging
Again, from the right hand side panel, go to Post > Add New Post to start blogging. This is where you begin and unleash the budding writer within you.
As you start blogging more and keep exploring the platform more, you will learn using it with greater ease.
Now that we know how to set up a blog with both WordPress.com and WordPress.org, the question arises, which one is better. So, here's a comparison of the pros and cons of WordPress.com and WordPress.org to help you decide:
WordPress.org Vs WordPress.com
Features
WordPress.com
WordPress.org
Our Verdict
Themes
Set number of themes is allowed to be used. You pay to unlock more themes, however, you cannot create or modify a theme's style or design
Full control over themes. You can apply whichever theme you desire and modify it in any way you please to give your blog the best look you desire
 WordPress.org wins because you have access to all themes at once. In WordPress.com, you can purchase a CSS upgrade for $30/year; however this allows you to only change the style in terms of colour. Some commercial themes can also be brought for a one-time fee.
Plugins
Although there are built-in features which perform as plugins, no plugins are allowed within WordPress.com, which limits the potential of your website.
You can add and upload all kinds of plugins.
Another point for WordPress.org for allowing plugins. In WordPress.com if you wish to unlock the use of plugins, you will have to opt for the VIP program which costs $2500/ month for up to 5 sites, clearly out of the question for initial bloggers.
Hosting
Free hosting with lifetime validity option available, which enables you to use storage of up to 3GB. There are paid plans available to upgrade to unlock more features as discussed above.
You have to pay for your web hosting on a yearly basis. You domain registration fee may also increase as traffic builds on your domain, hence the cost of hosting increases with respect to traffic.
WordPress.com is the choice if you desire an absolutely free domain and plan to blog as a pastime. However, if you are in for a long term serious commitment with your blog, WordPress.org is a wiser choice, given all the benefits and features it offer. Hosting your domains can cost you anywhere between $12-$108 a year (figure based on $1-$9 per month).
Maintenance
Taken care of by WordPress.com. The software is upgraded and integrated automatically as you are hosting on WordPress itself. There are inbuilt softwares for anti-spamming, regular backups and optimization is done by WordPress.com.
Manually needs to be done in WordPress.org. You need to check for upgrades and install the latest version manually. You can install a plugin for anti-spamming. For performance and security purposes, you will have to run backups and optimise your site manually.
While WordPress.org has a one-click software updation, the responsibility of backups, optimisation and anti-spamming falls upon you.

In comparison to that, WordPress is much simpler.

Monetization
Limited Monetisation is allowed within WordPress.com. The basic free domains strictly restrict monetisation. On upgrading to a paid account, you can enable content monetisation; however WordPress.com keeps a portion of your earnings.
Total freedom on Monetisation. You can use any plugins and make changes in the code to opt for content monetisation. The best part is you can keep 100% of your earnings, unlike with WordPess.com.
Plus 1 for WordPress.org because it not only allows you to keep 100% of your earnings, it allows you to build it up through various means such as changes within the code and plugins with no extra cost.
Network Benefits
Traffic boost on WordPress.com. Since your blog is hosted on WordPress.com, they can feature your posts to their large audience which enables you to get extra traffic at no extra cost.
No traffic boost from WordPress, since you are not part of WordPress.com, your posts are not promoted by WordPress and hence you are not eligible to receive any extra traffic from their end for free.
Although WordPress.com may give you a slight push at times, you can take matters into your own hands by marketing your WordPress.org blog yourself and end up getting a lot more traffic comparatively.
So there you have it my fellow writers of the future, WordPress.org is hands down the preferred and recommended option when it comes to serious blogging. To know more about blogging and making money out of it, stay tuned to this section and our upcoming blogs.
Do let us know how know if you have any suggestions or queries in the comments section below. We welcome progressive discussions!