BlueHost Affiliate Program
Platform where tracking is available
BlueHost Payout Categories
Category
Payout
Payout on Shared Hosting $

Basic, Bluehost Blogs, Plus, Choice Plus, Business Pro, Pro

Join Cuelinks


To unlock category wise payout

Payout on Website Builder $

Order Total less than $30

Join Cuelinks


To unlock category wise payout

Basic Web Hosting, Website Builder Pro Hosting, Website Builder Basic Hosting, Pro Web Hosting, Free Trial Basic Hosting, Free Trial Plus Hosting

Join Cuelinks


To unlock category wise payout

Payout on VPS Server $

VPS Enhanced Web Hosting, VPS Premium Web Hosting, VPS Standard Web Hosting, VPS Ultimate Web Hosting, Enhanced VPS Server, Enhanced VPS Server with cPanel, Standard VPS Server, Standard VPS Server with cPanel, Ultimate VPS Server, BH_VPS_ULTI_CPANEL

Join Cuelinks


To unlock category wise payout

Payout on Dedicated Server $

Dedicated Enhanced Web Hosting, Dedicated Premium Web Hosting, Dedicated Standard Web Hosting, Enhanced Dedicated Server, Enhanced Dedicated Server with cPanel, Enhanced SSD Server, Enhanced SSD with cPanel, Premium Dedicated Server, Premium Dedicated Server with cPanel, Premium SSD Server, Premium SSD with cPanel, Standard Dedicated Server, Standard Dedicated Server with cPanel, Standard SSD Server, Standard SSD with cPanel

Join Cuelinks


To unlock category wise payout

Payout on Managed WordPress Hosting $

Managed WordPress Build, Managed WordPress Grow, Managed WordPress Scale, WP Pro Hosting - Build, WP Pro Hosting - Grow, WP Pro Hosting - Scale

Join Cuelinks


To unlock category wise payout

Payout on WooCommerce Online Store $

WooCommerce Plus Hosting, WooCommerce Premium Hosting, WooCommerce Pro Hosting, WooCommerce Standard, WooCommerce Starter Hosting, ecomm marketplace, ecomm online store

Join Cuelinks


To unlock category wise payout

Non-Commissionable

addons, addons:testing, adjustment, amdesign, amfee:getty_images, amfee:whitelabel, ammobileapp:plus, ammobileapp:pro, ammobileapp:reseller, amservice:customwork, amservice:designplus, amservice:excelproblock, amservice:extrablock, amservice:extrarevision, amservice:formproblock, amservice:javascriptproblock, amservice:linkproblock, amservice:screenproblock, amservice:webservicesproblock, balance:compensation, bandwidth:dedicated, bandwidth:overage, bandwidth:vps, bigsenders, bundle:domain, bundle:postini_2, bundle:postini_5, bundle:privacy_unlimited, bundle:pro, bundle:sslcertificate, bundle:wpgt_ssl_cloud, bundle:wpgt_ssl_dedicated, bundle:wpgt_ssl_shared, bundle:wpgt_ssl_vps, charge:unparseable, charge:void, cloudflare:platinum, cloudflare:platinum_yearly, cloudflarecdn, cloudflarecdn:premium, cobiro:basic, cobiro:free, cobiro:premium, cobiro:pro, codeguard:basic, codeguard:enterprise, codeguard:premium, codeguard:professional, constantcontact:10000, constantcontact:2500, constantcontact:25000, constantcontact:500, constantcontact:5000, coupon:promo, coupon:repromo, cpu:dedicated, cpu:shared, cpu:vps, credit, dedicatedip, dedicatedip:dedicated, dedicatedip:reseller_shared, dedicatedip:resold, dedicatedip:resold_10, dedicatedip:resold_5, dedicatedip:shared, dedicatedip:vps, design:addpages, design:appointment, design:basic, design:custom_design_work, design:ecommerce, design:form, design:forum, design:fs_3ma, design:fs_3ms, design:fs_5ma, design:fs_5ms, design:fs_additionalgallery, design:fs_extrapage, design:fs_form, design:fs_fullservice, design:fs_fullservice_wordpress_, design:fs_maintenance, design:maintenance, design:mobile, design:plus, design:premium, design:quickstart, design:revision, fee:aftermarket_afternic, fee:aftermarket_buydomains, fee:bandwidth, fee:chargeback, fee:cpanel, fee:ppc, fee:premiumdomain, fee:domain, fee:restore, fee:storage, gomobi:sitecredit, gomobi:test, googleaccount, googlemybusiness:basic, jetpack:personal, jetpack:premium, jetpack:professional, jetpackbackup:daily, jetpackbackup:realtime, license:cpanel, linkbuilding:1ma, linkbuilding:1ms, linkbuilding:3ma, linkbuilding:3ms, linkbuilding:5ma, linkbuilding:5ms, linkbuilding:locallift, linkbuilding:localliftaddon, linkbuilding:sociallift_a, linkbuilding:sociallift_addon_a, linkbuilding:sociallift_addon_s, linkbuilding:sociallift_s, mailfoundry, managewp, marketgoo:grow, marketgoo:start, marketgoo:startplus, mmbundle:sale, mmcredit, mojomarketplace:graphic_banner_t, mojomarketplace:graphic_bc_t1, mojomarketplace:graphic_font_t1, mojomarketplace:graphic_gfx_t1, mojomarketplace:graphic_icon_t1, mojomarketplace:graphic_logo_t1, mojomarketplace:graphic_vector_t, mojomarketplace:plugin_js_t1, mmplugin:magento, mojomarketplace:plugin_php_t1, mojomarketplace:plugin_wp_t1, mmrecurring:wpl_lite, mmrecurring:wpl_live, mmrecurring:wpl_pro, mmservice:all, mmservice:wp_lite, mmtemplate:drupal, mmtemplate:email, mojomarketplace:template_html_t1, mojomarketplace:template_joomla_, mojomarketplace:template_magento, mojomarketplace:template_oc_t1, mojomarketplace:template_presta_, mojomarketplace:template_tumblr_, mmtemplate:weebly, mojomarketplace:template_wp_t1, mmtemplate:wp, office365:business_essentials, office365:business_premium, office365:email_essentials, office365:exchange_standard, os:linux, paymentsphere, pluginwc:amazon_pay, pluginwc:auth_net, pluginwc:csv_import, pluginwc:currency_converter, pluginwc:eu_vat, pluginwc:fedex_shipping, pluginwc:paypal_pro, pluginwc:product_addon, pluginwc:product_vendors, pluginwc:rate_shipping, pluginwc:ship_station, pluginwc:software_addon, pluginwc:stripe, pluginwc:ups_shipping, pluginwc:usps_shipping, pluginwc:woocommerce, pluginwc:woocommerce_bookings, pluginwc:woocommerce_paypal_chec, pluginwc:woocommerce_shipping, pluginwc:woocommerce_subscriptio, pluginwc:woothemes_sensei, pluginwc:woo_slider, pluginwc:xero, postini, ppc, premiumdomain, privacy, quickstart, ram:dedicated, ram:shared, ram:vps, redemption, registration, ripedesign:additionalpage, ripedesign:blog, ripedesign:branding_basic, ripedesign:branding_bonanza, ripedesign:branding_plus, ripedesign:branding_total, ripedesign:customwork, ripedesign:eventscalendar, ripedesign:membership, ripedesign:newsletter, ripedesign:photogallery, ripedesign:slider, ripedesign:vectorart, ripedesign:videogallery, ripedesign:websitewalkthru, ripeecommerce:additionalproducts, ripeecommerce:discountcodes, ripeecommerce:gold_finish, ripeecommerce:gold_full, ripeecommerce:gold_start, ripeecommerce:platinum_finish, ripeecommerce:platinum_full, ripeecommerce:platinum_start, ripeecommerce:productattributes, ripeecommerce:titanium_finish, ripeecommerce:titanium_full, ripeecommerce:titanium_start, ripemaintenance:gold, ripemaintenance:platinum, ripemaintenance:silver, ripemarketing:goldext_finish, ripemarketing:goldext_full, ripemarketing:goldext_start, ripemarketing:gold_finish, ripemarketing:gold_full, ripemarketing:gold_start, ripemarketing:platinum_finish, ripemarketing:platinum_full, ripemarketing:platinum_start, ripemarketing:titanium_finish, ripemarketing:titanium_full, ripemarketing:titanium_start, seogears:advanced, seogears:jumpstart, seogears:jumpstartsignup, seogears:pro, sitebackup, sitebuilder:basic, sitebuilder:express, sitebuilder:premium, sitedeveloper:half_hour, sitedeveloper:monthly, sitedeveloper:monthly_plus, sitedeveloper:one_hour, sitedoctor, sitelock, sitelock:enterprise, sitelock:essential, sitelock:find, sitelock:fix, sitelock:free, sitelock:lite, sitelock:premium, sitelock:prevent, sitelock:preventplus, sitelock:professional, sitelock:protect, sitelock:sitelockprevent, sitelock911, sitelockcdn, sitelockcdn:basicwithssl, sitelockcdn:enterprise, sitelockcdn:globaladvanced, sitelockcdn:globalpremium, sitelockcdn:premium, sitelockcdn:professional, sitemaster:one_hour, sitemaster:wp_basic, sitemaster:wp_plus, sitemonitor:wp_basic, sitemonitor:wp_pro, siteoptimization, socialmedia:blackbelt, socialmedia:bundlepage, socialmedia:facebookpage, socialmedia:instagrampage, socialmedia:kickstart, socialmedia:ninja, socialmedia:twitterpage, soloseomonthly, soloseomonthly:blog, soloseomonthly:expedition_1, soloseomonthly:expedition_10, soloseomonthly:expedition_11, soloseomonthly:expedition_12, soloseomonthly:expedition_2, soloseomonthly:expedition_3, soloseomonthly:expedition_4, soloseomonthly:expedition_5, soloseomonthly:expedition_6, soloseomonthly:expedition_7, soloseomonthly:expedition_8, soloseomonthly:expedition_9, soloseoonetime:blog_1, soloseoonetime:blog_2, soloseoonetime:blog_3, soloseoonetime:blog_4, soloseoonetime:blog_5, soloseoonetime:seo_consult30, soloseoonetime:social_setup, soloseoonetime:video_1, soloseoonetime:video_2, spamexperts, spamexperts:split_delivery, sslcertificate, sslcertificate:comodossl, sslcertificate:comodossl_wildcar, sslcertificate:free90, sslcertificate:rapid, sslcertificate:wildcard, sstemplate, storage:dedicated, storage:san, storage:vps, subdomains, training:account_tour, training:web_basics, training:wordpress_basics, transfer, trial:shared, tutor:basic, tutor:wordpress, websitetransfer, websitetransfer:cpanel_creation, websitetransfer:domain, websitetransfer:email, websitetransfer:forwarder, websitetransfer:free_wordpress, websitetransfer:new_domain, websitetransfer:single, weebly:basic, weebly:business, weebly:ecommerce, weebly:proaccount, weebly:professional, workspace:business_plus, workspace:business_standard, workspace:business_starter, wpbuilder:basic, wpbuilder:pro, wpmigrate, wpsitelicense, yoast:premium

Join Cuelinks


To unlock category wise payout

Join Cuelinks


To unlock category wise payout
Load More

Generate Your BlueHost Affiliate Link
What is Affiliated Link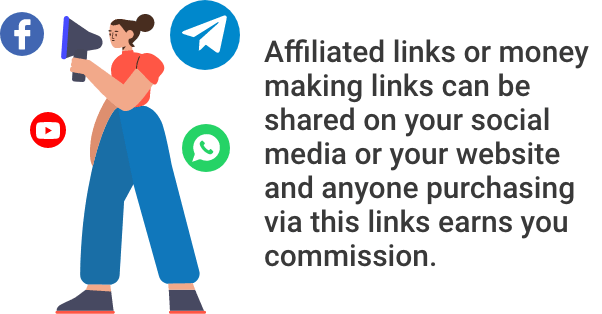 Media Allowed/Disallowed
---
Allowed Media
Disallowed Media
Deals
Coupons
Cashback, Reward Points, Incentives, Charity
Email (Text)
Custom Email (Text)
Email (HTML)
Custom Email (HTML)
POP Traffic
Native Ads
Social Media
Facebook Ads
SEM - Brand Keyword(s)
SEM - Generic Keyword(s)
SEM - Brand + Generic Keyword(s)
Important Information for BlueHost Program
Tracking Details:
BlueHost campaign doesn't help with missing transactions.
Promotion of our Affiliate Relationship

a) Use of Links. If you qualify and agree to participate as an Affiliate, we may provide you with access to graphic and textual links and JavaScript code (each referred to herein as a "Link" or collectively, as the "Links") that you may use to promote Provider Services. Links will serve to identify your website as a member of the Affiliate Program and will establish a link from your website or e-mail to Provider Website. The You agree to cooperate fully with us to establish, display, and maintain such Links. You further agree that your use of the Links must be in compliance with this Agreement at all times. Provider may modify the Links from time to time in its sole discretion. You will not use graphic or textual images (indicating a Link) or text messages to promote Provider that are not approved in advance by Provider. Furthermore, you agree not to use cookie stuffing techniques that set the affiliate tracking cookie without the Referred Customer's knowledge (e.g. iframe).
b) Search Engine Marketing. Unless otherwise approved by Provider in writing, Affiliates shall not to run SEM campaigns for Provider products and services on Google.
c) Keyword Noncompete. For so long as you are an Affiliate, you may not purchase, either directly or indirectly, or bid, either directly or indirectly, on any Keywords owned or offered through an internet search engine (including Google, Yahoo, or Bing) that compete with Provider's name, trademarks, or product names. In addition, you will not, directly or indirectly, engage in any activities that could result in confusion among consumers as to the source of an ad (including the overuse of an authorized trademark, trademark cyber-stuffing or other similar activities). "Keywords" shall mean a word used in a search request by an internet search engine user which, when used in such internet search engine, causes a particular sponsor's ad to appear next to the search results.
d) Prohibited Activities. Except as permitted herein, you shall not and are not authorized to (i) use Provider's trademark or other intellectual property, including without limitation, the Links (collectively, "Provider's IP") without Provider's express prior written permission; (ii) use Provider's name (or any variation or misspelling thereof or other terms that are confusingly similar to any of the foregoing) in a domain name, any metatags, advertising, search terms, code, or otherwise; or (iii) act in any way that causes or could cause any confusion concerning the source of, or your association with Provider's Services. Your use of Provider's IP in any manner, other than as expressly permitted hereunder shall constitute unlawful infringement of Provider's intellectual property rights and may subject you to liability (including potential treble damages for knowing or willful infringement), and the obligation to pay Provider's legal fees and costs in connection with Provider's enforcement of its rights.
e) Discounts and Coupons. You are not allowed to post any refunds, credits or discounts on Provider Services, or other content concerning Provider without our prior written consent in each instance. Affiliates may only use active coupons and discounts that are provided exclusively through the Affiliate Program using banners and links. Each Link connecting users of the Affiliate Site to the pertinent area of the Provider Website will in no way alter the look, feel, or functionality of the Provider Website. Any violations of the terms surrounding links, coupons, refunds, credits or discounts shall constitute a material breach of this Agreement and may result in your termination from the Affiliate Program or the withholding of Commission Fees.
f) IMPORTANT INFORMATION ABOUT YOUR DISCLOSURE OBLIGIATIONS:
We require all affiliates to comply with applicable laws, regulations and guidelines who promote our products or services to clearly & conspicuously disclose the fact that they receive compensation for doing so. Failure to do so may result in removal from our affiliate program and the cancellation of commissions.
Read More
Read Less
About BlueHost Campaign
This leading web hosting solutions company continues to help empower you : the content creator. With constantly innovating the hosting game, the Bluehost Affiliate Program makes for a great money churning machine thanks to Cuelinks. Cuelinks reaches the right audience to help garner the Bluehost Affiliate Marketing to its optimum. Thus, this adds to the Bluehost Affiliate Commission and puts you under the spotlight you truly deserve.
Read More
Read Less