So, you really want to start a blog or website, and you have already done some basic research on how to do it. (If not you can find out here.) Despite the claims made in various articles that you do not need technological expertise for it, you are still uncertain.
If you've read our post on how to set up a blog with WordPress, you already know that setting up a free blog with WordPress.com is a cakewalk. However, when it comes to self-hosting a blog, things start looking a little complicated. Self-hosting a blog means hosting it on a different server than that of the blogging platform. To understand more about web hosting, we recommend you go through this guide first.
Now, coming to starting a blog; we have simplified it for you down to the last detail in this walk-through article which covers the following points:
Choosing a web host plan (HostGator)
Buying or Registering Domain
How to install WordPress on a web host (HostGator)
Here's the detailed step-by-step guide for setting up your blog on HostGator (or any other web host)
For this article's sake, we have chosen WordPress as the blogging platform and HostGator as our webhost, because both are super-reliable and extremely user-friendly. HostGator also gives you 24×7 chat support as well as 45 days full refund guarantee, in case you are not satisfied with their service. You can use any other hosting provider if you want, but the prices and steps will be slightly different, although the overall process will be more or less the same.
Step 1: Choose a web host plan (HostGator)
Go to HostGator and go to Shared Hosting > Linux Shared Hosting and click 'Choose A Plan', then click the 'Buy Now' button given on the Baby Plan.
We recommend this plan because it offers unlimited domains unlike the Hatchling plan, which offers only a single domain. That means it will allow you to host multiple sites with the same plan, although you will still have to pay for buying the domain names. The Baby plan also gives you unlimited emails, meaning multiple email accounts with your domain name e.g. [email protected], where your visitors can contact you and your employees/ coworkers.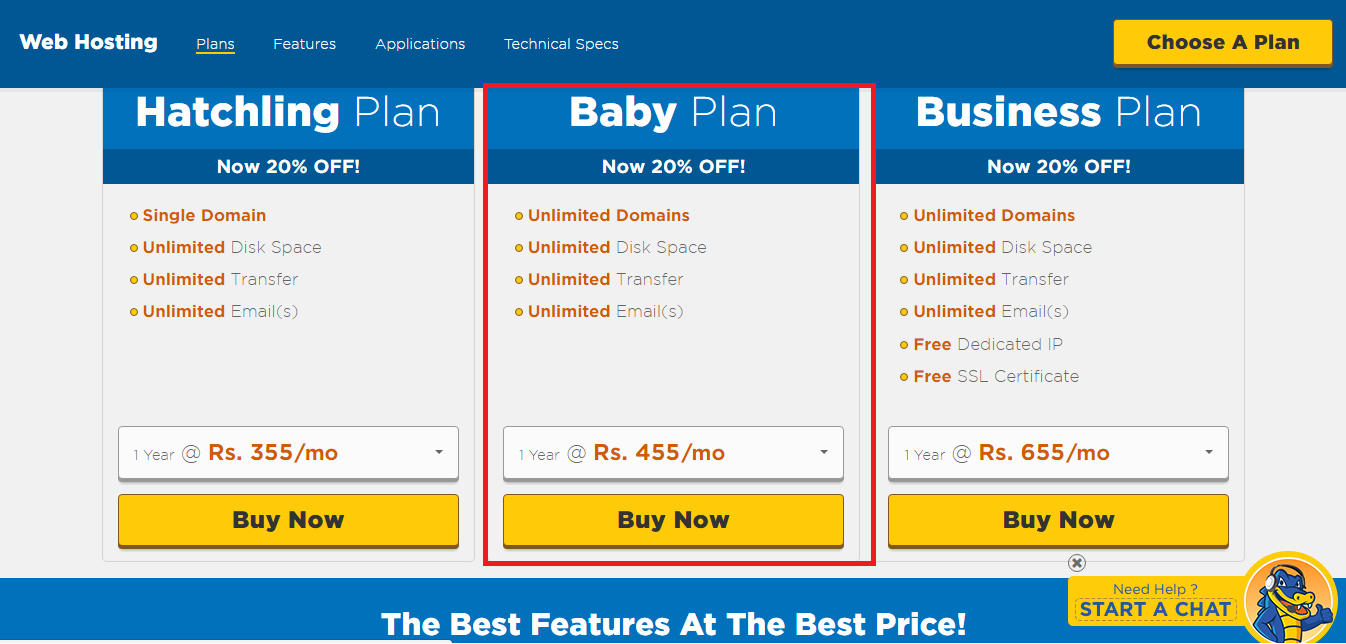 Check that duration of 1 Year is selected on the plan before clicking 'Buy Now'.
Step 2: Buy or Register Domain
When you click 'Buy Now', you will be asked whether you already have a domain name or not.
As you must already know, a domain is the name of your website. You can buy it from a domain registration site like GoDaddy and then host it on HostGator. If you have already bought a domain, click Yes, type your domain name in the dialog box that appears and click Continue.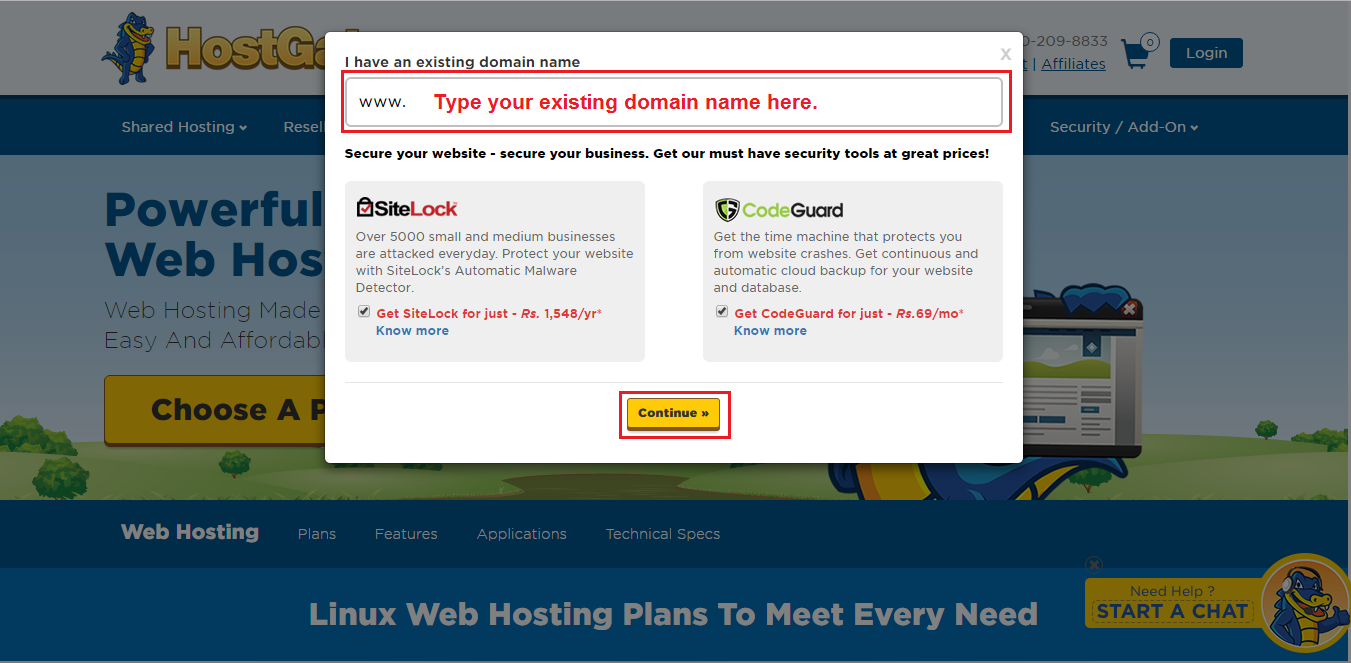 If you have not bought a domain name, click No and proceed to buy a domain name from HostGator itself. In the following dialog box that opens, type the domain you would like to buy and click continue. On the next page, HostGator will show you whether the domain you desire to buy is available or not, and if yes then at what price. If it is not available, it will show you similar options that are available.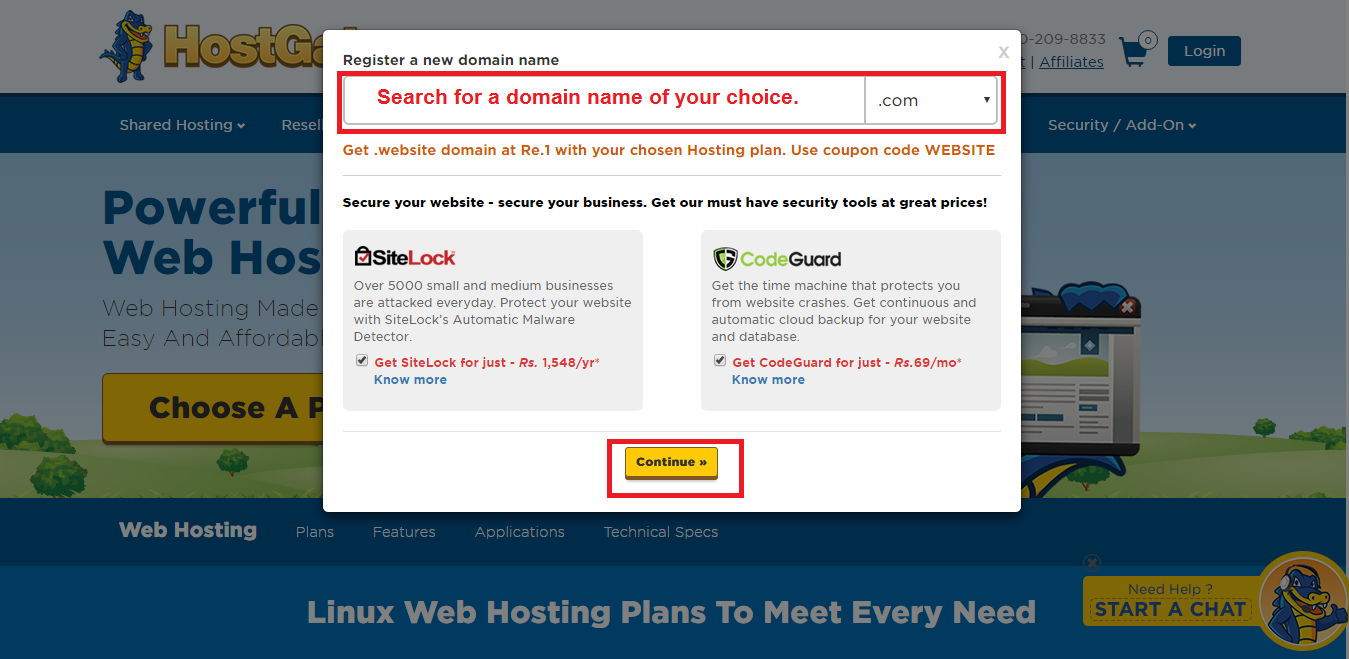 Finalise on a domain, click on 'Add to cart' and checkout.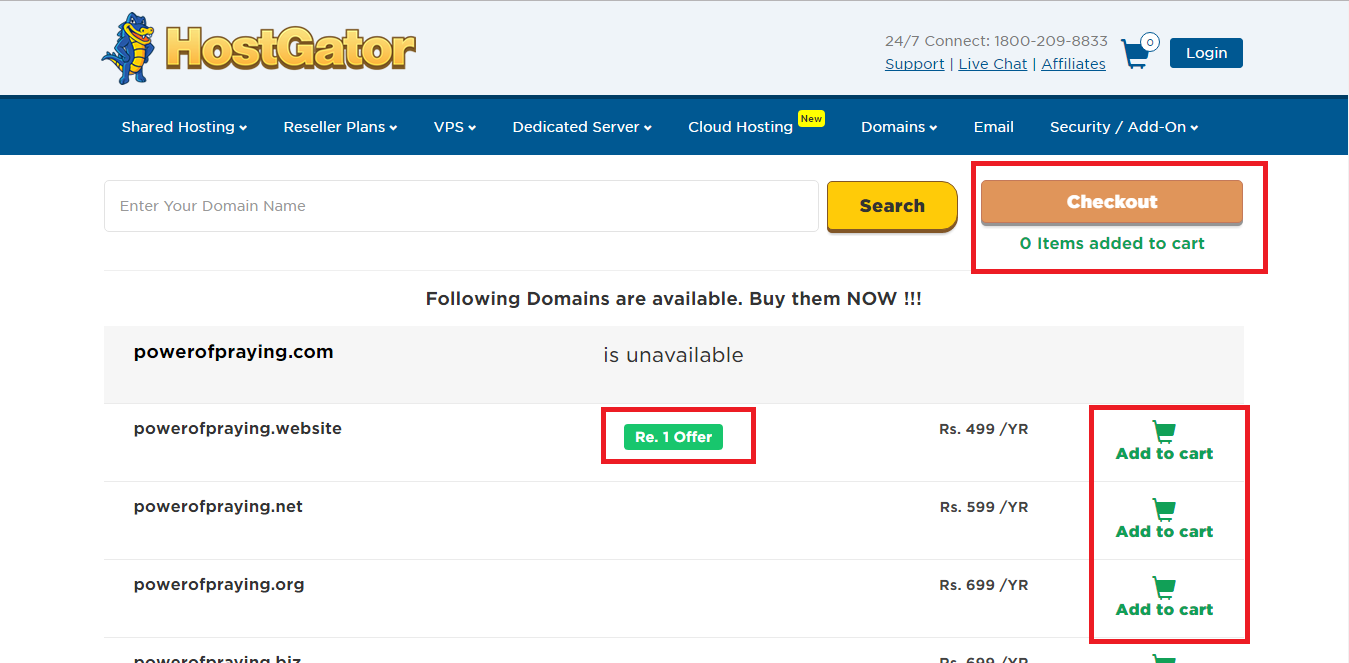 Step 3: Review Order Summary
Now you will be taken to the order summary of your hosting plan. You can get rid of the default add-ons (SiteLock and CodeGuard) here, if you want. Site Lock will save your site from malware attacks, while CodeGuard will protect it from crashing and will take regular, automatic cloud backup of your site. If you wish to keep them, you will have to incur an extra cost, as seen in the image. You can also increase and decrease the duration for which you are buying the domain, the plan, and the add ons. While you can buy a hosting plan for one month to 5 years, the one year package is optimum if you are still unsure about your long-term plans with the blog/ site.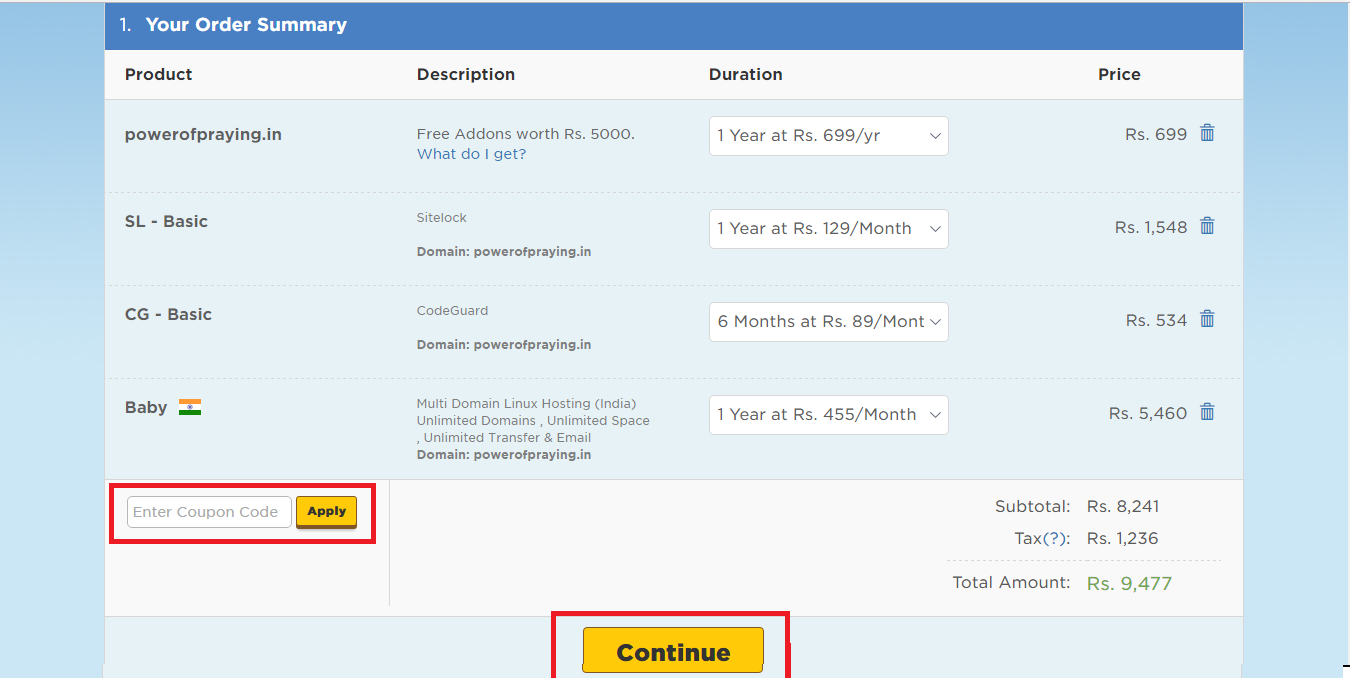 Make the changes to the order according to your needs, apply a coupon code, if you have one and click Continue.
(At the time of writing this article, HostGator was offering 20% off on its hosting plans on applying the coupon code SUNSHINE. )
Step 4: Enter Contact Details and Pay
Next you will be taken to a log in page. If you already have an account with HostGator, you can log in directly; otherwise you will have to create an account. Fill in the contact details and proceed to make the payment.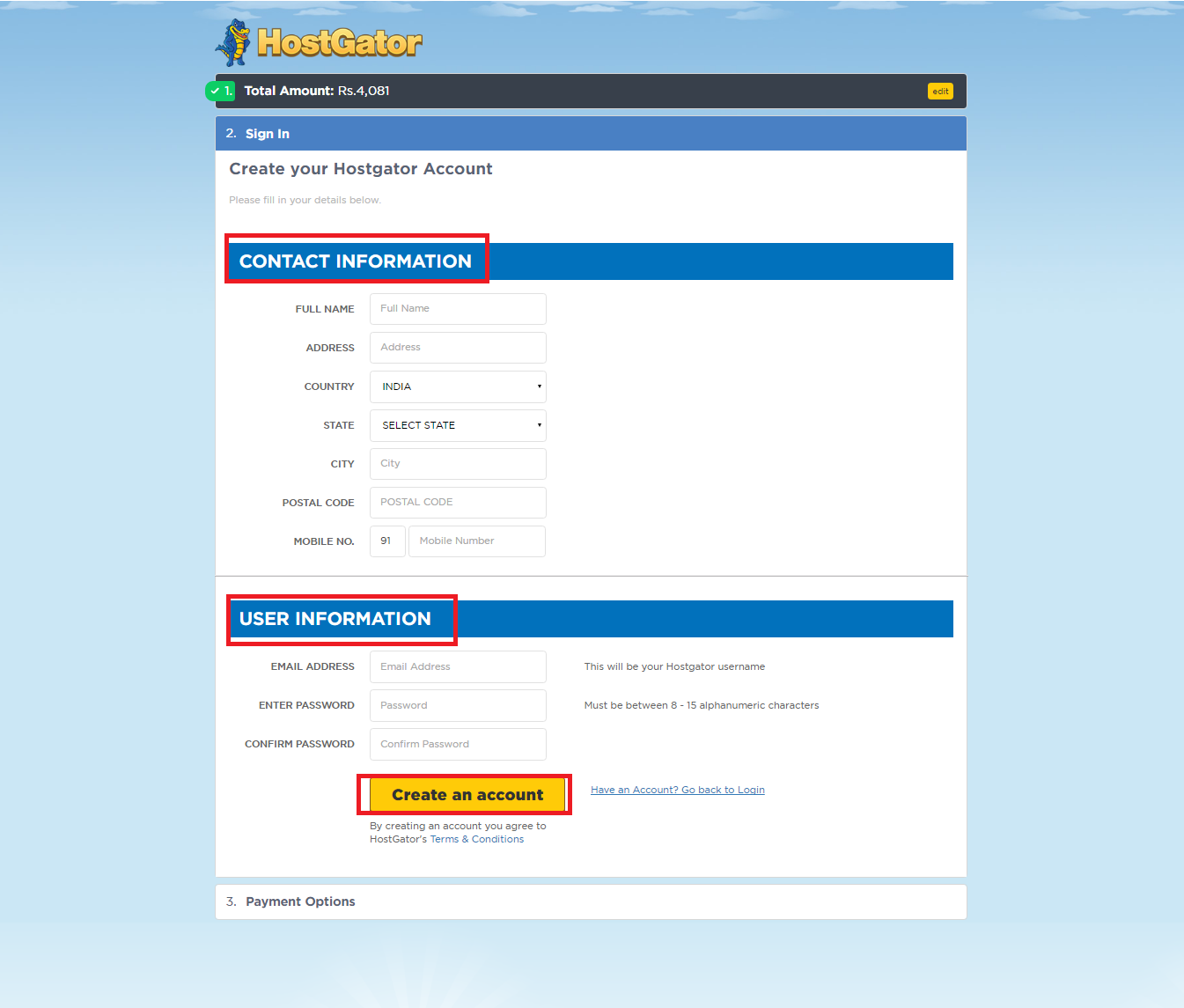 Step 5: Install WordPress on HostGator
That's it! You just bought the webhost for your first self-hosted website. You will receive a Welcome email from HostGator, along with your ServerName, server IP address and log in details to a control panel(cPanel). Using these access details, you can start building your blog or website after installing WordPress in your cPanel.
How To Install WordPress (Joomla or Drupal) on HostGator cPanel
HostGator provides a one-click install option for beginners so that you can get a WordPress, Joomla or Drupal website up-and-running within a few minutes. Here's how you can do it:
Log in to cPanel
First you have to log in to your cPanel. There are 3 ways to do this:
Type https://YourServerName:2083 in your browser.
Type https://YourServerIPAddress:2083 in your browser.
Type https://yourdomainname:2083 in your browser
HostGator recommends using a secure connection to log in to your cPanel. By using https and the port address (2083) to access cPanel, your connection will be encrypted and safe.
Once you enter the URL, you will be asked for log in details.
Install WordPress
After logging in, find and click the QuickInstall button on the cPanel. You will find it under the Software/ Services section in HostGator cPanel.
On the QuickInstall page, you will find various Softwares, on the left hand side bar, including WordPress, Joomla and Drupal. Click on WordPress (or your preferred software), select the domain you want to install.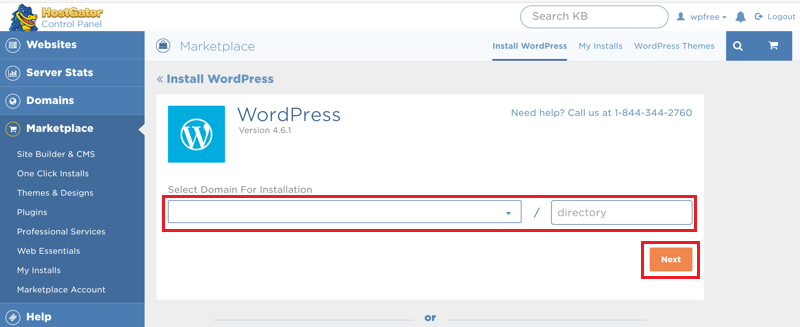 If you have a website and you are starting a blog for it, you can install WordPress under a sub domain rather than the root directory.
For example:
Root Directory: https://www.cuelinks.com
Sub domain: https://www.cuelinks.com/blog
Then click next and enter the details asked and click Install Now.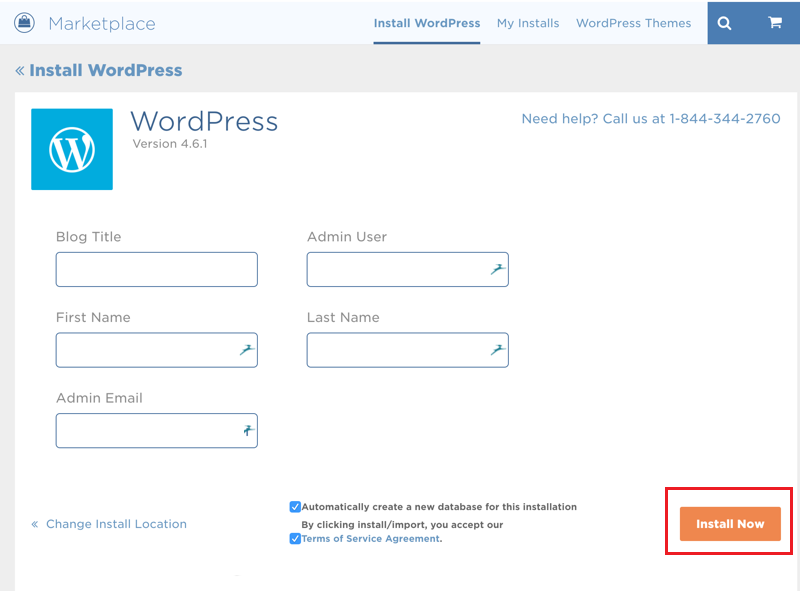 During installation, if HostGator offers you any themes, just skip.
Once the installation is complete, you will be given your Admin URL and log in password for your blog or website. You can change the password if you wish.
Once the installation is complete, you will be given your Admin URL and log in password for your blog or website. You can change the password if you wish.
Start Building Your Website
Go to your admin URL, log in and you can now truly start building your blog or website.
To give your blog a look, go to Appearance > Themes (on the left hand side of the Admin panel). Type in some keywords related to your blog's concept and search for a theme you like and activate it. You can even purchase a theme if you want to.
You can edit your Profile image, bio, contact information etc. by clicking on your name in the top right corner of the page.
Apart from that, whatever you want to change on your blog, you will find options for it on the left hand side of the Admin Panel.
To add articles and categories go to Posts> Add New/ Categories.
Similarly, you can add new Pages, check and approve comments, add Plugins, Tools, change settings, add and remove Users et al, using this left hand side bar.
There you go. Hope, starting your own blog looks simple enough to you now. If you still have some doubts, you can reach out to us using the comments section. To know more about which theme to install or which plugins are a must for running a good blog or website and how to make money out of it, stay tuned to this blog.