Expedia India Affiliate Program
Platform where tracking is available
Expedia India Payout Categories

Generate Your Expedia India Affiliate Link
What is Affiliated Link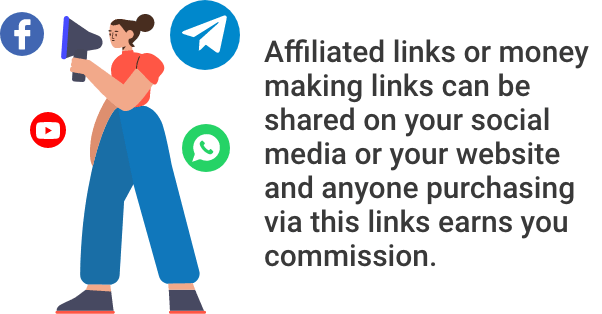 Media Allowed/Disallowed
---
Allowed Media
Text Link
Banner
Cashback, Reward Points, Incentives, Charity
Email (Text)
Disallowed Media
Deals
Coupons
Custom Email (Text)
Email (HTML)
Custom Email (HTML)
POP Traffic
Native Ads
Social Media
Facebook Ads
SEM - Brand Keyword(s)
SEM - Generic Keyword(s)
SEM - Brand + Generic Keyword(s)
Important Information for Expedia India Program
Tracking Details:
No commissions will be paid on coupon redemptionNo other affiliate coupon/offer not shared/confirmed by us shall not be payable.

Email Marketing Campaigns
Expedia allow email marketing affiliates to promote Expedia in newsletters and standalone/solus email. Note that all email marketing campaigns have to be signed off by Expedia or our affiliate network representative prior to broadcast. Email creative can be supplied upon request.
Use of Voucher Codes
Unless Expedia expressly provide affiliates with the rights to use a public or exclusive, affiliate-specific voucher, affiliates are not allowed to promote Expedia voucher codes. If Expedia vouchers are used without consent, the affiliate will not earn commissions from these transactions. When a voucher is provided to an affiliate, the affiliate will agree to display this voucher code only. When applicable, the affiliate will receive a reduced commission rate for transactions where a voucher code has been applied.

INELIGIBLE SITES
At all times during your participation in the Program, you will ensure that your Partner Site(s) do not:

1 depict or promote: violence or sexually explicit material; material that is fraudulent, defamatory or obscene; or any material that contains misinformation/fake news;
2 reproduce content from other websites without express license or permission or without proper accreditation or reference where required;
3 use any method to falsely/illegally boost your social media engagement (e.g., in relation to number of likes, followers, comments);
4 appear incomplete – e.g., still under construction;
5 promote illegal activities or unlawful discrimination of any kind;
6 promote or contain any materials which infringe or assist others to infringe the Intellectual Property Rights of others;
7 contain any images or content that is in any way unlawful, harmful, threatening, defamatory, obscene, harassing or racially, ethically or otherwise objectionable;
8 use any services or practices to mask or hide your IP address and/or your referring URLs;
10 contain any spyware, malware, adware, virus, worm, trojan horse, or other subversive, malicious, or harmful code, or any application not expressly and knowingly authorized by Users prior to being downloaded or installed on their computer or other device;
11 operate as a sub-affiliate network (i.e., operates a product or service that provides digital marketing services to one or more businesses), including influencers network (unless exceptional written approval has been granted by Expedia, at the discretion of Expedia);
12 operate as a travel agent;
13 copy or resemble the look and feel of Expedia / any Related Company of Expedia, or create an impression that your Site(s) are part of Expedia / any Related Company of Expedia; or
14 otherwise operate in a manner which Expedia deems unsuitable for the Program (as determined at Expedia's discretion) which Expedia communicates to the Partner.
(any Sites which fail to comply with the above restrictions are "Ineligible Sites")
PROHIBITED CONDUCT
1 use any link(s) that sends Users indirectly to the Expedia Sites via an intermediate site or webpage;
.2 use any other method that impedes Users from determining which site or application they click within any Travel Content;
.3 take any action that could reasonably confuse Users regarding: (i) our relationship with you; or (ii) the website on which any searching or booking of Travel Products is occurring (e.g., through the use of iFrames);
4 display any Travel Content or Expedia Marks within any pop-up or pop under windows, transitional page ads, or layer ads around or in conjunction with the display of any site that is not the Partner Site;
5 mislead or misrepresent to Users as to the origin, affiliation or nature of the Partner Site(s), products or services;
.6 use any Travel Content or any Expedia Mark in a manner (by proximity or otherwise) that implies endorsement or commercial association by Expedia with any product, service, party, or cause;
7 take any action to register as a trademark or domain name any Expedia Mark or any mark or domain name that contains, is confusingly similar to, or otherwise seeks to copy, benefit from, or interfere with our interests in Expedia Marks as either a trademark, domain name, or meta tag;
8 display or otherwise use any trade name, trademark, service mark, logo or other similar indicia of identity or source of any third party Travel Supplier in connection with the display of any Travel Content except in the form and manner provided by Expedia or in accordance with any trademark usage guidelines provided by such third parties;
9 attempt to artificially increase your Commission in any way (e.g., by causing any page of an Expedia Sites to open in a browser other than as a result of the User clicking on Travel Content on your Site or by artificially generating clicks, impressions, or bookings, whether by way of a robot, spider, scraper or software program or other automated means or any manual process for any purpose (e.g., other method designed to emulate a click by a real person);
10 violate the restrictions in any robot exclusion headers on the Affiliate and/or any Expedia Site, or bypass, circumvent, or avoid any measure employed to prevent or limit access to the Affiliate Hub and/or such Expedia Site;
11 take any action that Expedia deems imposes or may is likely to impose an unreasonable or disproportionately large load on the technology or infrastructure of Expedia (e.g., using scraping/caching or crawler type requests on Expedia's servers);
12 collect, use, or disclose personal information under or in relation to the Affiliate Program unless you have obtained all relevant consents to do so including that you will not knowingly collect, use, or disclose personal information from children who are under the appropriate age in any country;
13 request, obtain, store, cache, or otherwise use any account information used by our customers in connection with any Expedia Sites (including any usernames or passwords of Expedia customers);
14 engage in any deeplink to any portion of the EG Affiliate Hub for any purpose;
15 engage in any deeplinking, except in accordance with Section 14.3 of these Terms;
16 use or register any Expedia Marks or the names or trademarks of Expedia or its partners or any variant, misspelling, or similar characters thereof or any combination containing or script representing said terms in any trademark, trade name, reference, subdomain, site reference (e.g.
www.expedia.partnersite.com
or
www.partnersite.com/expedia
) or second level domain name (e.g.
www.expedialike.com
or
www.exp3dia.net
), unless previously approved by Expedia;
17 display Travel Content without linking to the Expedia Site;
18 use iFrames or similar functionality to display Travel Content or incorporate any part of the EG Affiliate Hub;
19 use any functionality that places a cookie on User's device, e.g., "frontdoors" and toolbars with such functionality;
20 engage in any marketing activities on behalf of us, any Related Company or our partners in connection with the Program, that are not expressly permitted by these Terms. For example, you will not use any Expedia Mark or Travel Content in any offline promotion or in any other offline manner (e.g., in any facsimile, direct mailing, text messaging, email or attachment to email, or other document, or on television, radio, or other offline media);
21 scrape, crawl or monitor the Expedia Sites, any other websites operated by Expedia, by any Related Company or by other partners through which Travel Content is available;
22 allow (and will take reasonable steps to prevent) any direct or indirect extraction, repurposing and/or aggregation of any Travel Content (including the use of Travel Suppliers' information and photos), Confidential Information, or any other data or information made available under these Terms;
23 use "Expedia" or any related logos from any Related Company in any tool bar activities/placements (for example by promoting discounts available on cashback sites);
24 allow any Travel Content, the names or trademarks of Expedia or a Related Company to be placed, displayed and/or used on any Partner Site that you do not own and operate under your own brands and for your own benefit (i.e. you cannot use any part of the Travel Content on sites that you operate for third parties/third party brands even if you own such sites, and on third party sites);
25 use any Travel Content in connection with providing others with the capability of and/or soliciting others to join a partner marketing, advertising or similar network for the purpose of engaging in business of the type conducted by Expedia (e.g. you will not use Travel Content provided in relation to these Terms to set up/administer a sub-network of Partners or publishers (regardless of whether you own and/or own and operate sites on behalf of the intended third party partners or publishers); and
26 misuse or otherwise infringe any trademarks of any Travel Supplier or any misspelling, variant, transliteration, script or substantially similar or confusingly similar version thereof by using or registering it as a domain name or sub-domain name.
Coupons and Vouchers.
You may not display Travel Content that includes coupon, voucher, or discount codes ("Coupon Codes") unless Expedia expressly provides the Coupon Codes to you via either email or via the Administrator Site or the EG Affiliate Hub. If Expedia provides Coupon Codes to you, you agree that:
1 you will comply with all applicable laws, including marketing and advertising laws;
2 you will only display the specific Coupon Codes that Expedia makes available to you;
3 you will not use any functionality whereby the User must click any link to reveal the Coupon Code; and
4 you may receive reduced Commission or no Commission for Consumed Verified Transactions in which the Coupon Code was redeemed in accordance with the applicable Commission information displayed on the Administrator Site or the EG Affiliate Hub (as applicable).
BIDDING You must not bid on:
1 the Expedia Marks;
2 the Approved Bidding Terms; or
3 the Expedia Marks in conjunction with any other words. In exceptional cases, Expedia might initiate contact with you to grant consent to bid on the Approved Bidding Terms in writing. Where granted, such consent may be withdrawn by Expedia at any time for any reason or no reason at all. Upon receipt of such consent, the following requirements shall apply.29.
NEGATIVE KEYWORD MATCHING Upon our request you will cause any search engine designated by us to exclude Expedia Marks from keywords used to display your advertising content in association with search results (e.g., request exclusion by negative keyword matching).
Read More
Read Less
About Expedia India Campaign
Expedia is one of the fastest growing online travel portals in Asia, offering travellers an extensive selection of hotels, activities and travel services to meet every budget and activities of every kind at competitive rates. With over hundreds of thousands of hotel partners worldwide and a comprehensive offering of flight inventory made available on the website, travellers can book everything they need for a holiday - rooms to meet every budget, activities of every kind and travel services to complement.
Read More
Read Less