Electronicx Affiliate Program
Platform where tracking is available
Electronicx Payout Categories

Generate Your Electronicx Affiliate Link
What is Affiliated Link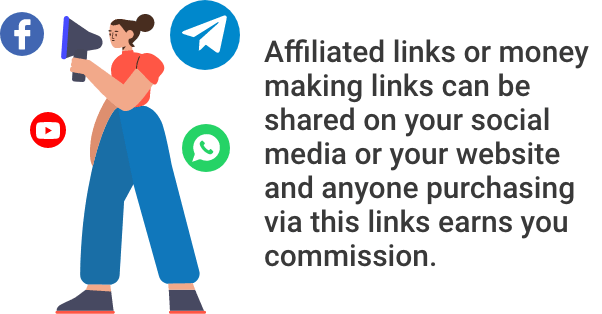 Media Allowed/Disallowed
---
Allowed Media
Text Link
Banner
Email (Text)
Disallowed Media
Deals
Coupons
Cashback, Reward Points, Incentives, Charity
Custom Email (Text)
Email (HTML)
Custom Email (HTML)
POP Traffic
Native Ads
Social Media
Facebook Ads
SEM - Brand Keyword(s)
SEM - Generic Keyword(s)
SEM - Brand + Generic Keyword(s)
Important Information for Electronicx Program
Tracking Details:
Tracking
- Online

We may cancel your application if we determine that your site is unsuitable for our Program, including if it:

Promotes sexually explicit materials
Promotes violence
Promotes discrimination based on race, sex, religion, nationality, disability, sexual orientation, or age
Promotes illegal activities
Incorporates any materials which infringe or assist others to infringe on any copyright, trademark or other intellectual property rights or to violate the law
Includes "Electronicx" or variations or misspellings thereof in its domain name
Is otherwise in any way unlawful, harmful, threatening, defamatory, obscene, harassing, or racially, ethnically or otherwise objectionable to us in our sole discretion.
Contains software downloads that potentially enable diversions of commission from other affiliates in our program
You may not create or design your website or any other website that you operate, explicitly or implied in a manner which resembles our website nor design your website in a manner which leads customers to believe you are Electronicx.de or any other affiliated business.
Electronicx.de reserves the right, at any time, to review your placement and approve the use of Your Links and require that you change the placement or use to comply with the guidelines provided to you.

Affiliates are not prohibited from keying in prospect's information into the lead form as long as the prospects' information is real and true, and these are valid leads (i.e. sincerely interested in Electronicx's products).

MALWARE: Affiliate shall not transmit any so-called "interstitials," "Parasiteware™," "Parasitic Marketing," "Shopping Assistance Application," "Toolbar Installations and/or Add-ons," "Shopping Wallets" or "deceptive pop-ups and/or pop-unders" to consumers from the time the consumer clicks on a qualifying link until such time as the consumer has fully exited Electronicx's site (i.e., no page from our site or any Electronicx.de's content or branding is visible on the end-user's screen). As used herein a. "Parasiteware™" and "Parasitic Marketing" shall mean an application that (a) through accidental or direct intent causes the overwriting of affiliate and non affiliate commission tracking cookies through any other means than a customer initiated click on a qualifying link on a web page or email; (b) intercepts searches to redirect traffic through an installed software, thereby causing, pop ups, commission tracking cookies to be put in place or other commission tracking cookies to be overwritten where a user would under normal circumstances have arrived at the same destination through the results given by the search (search engines being, but not limited to, Google, MSN, Yahoo, Overture, AltaVista, Hotbot and similar search or directory engines); (c) set commission tracking cookies through loading of Electronicx site in IFrames, hidden links and automatic pop ups that open Electronicx.de's site; (d) targets text on web sites, other than those web sites 100% owned by the application owner, for the purpose of contextual marketing; (e) removes, replaces or blocks the visibility of Affiliate banners with any other banners, other than those that are on web sites 100% owned by the owner of the application.

Electronicx campaign does not help with the missing transaction.
Promotion Restrictions :
SPAM: You are free to promote your own web sites, but naturally any promotion that mentions Electronicx.de could be perceived by the public or the press as a joint effort. You should know that certain forms of advertising are always prohibited by Electronicx.de. For example, advertising commonly referred to as "spamming" is unacceptable to us and could cause damage to our name. Other generally prohibited forms of advertising include the use of unsolicited commercial email (UCE), postings to non-commercial newsgroups and cross-posting to multiple newsgroups at once. In addition, you may not advertise in any way that effectively conceals or misrepresents your identity, your domain name, or your return email address. You may use mailings to customers to promote Electronicx.de so long as the recipient is already a customer or subscriber of your services or web site, and recipients have the option to remove themselves from future mailings. Also, you may post to newsgroups to promote Electronicx.de so long as the news group specifically welcomes commercial messages. At all times, you must clearly represent yourself and your web sites as independent from Electronicx.de. If it comes to our attention that you are spamming, we will consider that cause for immediate termination of this Agreement and your participation in the Electronicx.de Affiliate Program. Any pending balances owed to you will not be paid if your account is terminated due to such unacceptable advertising or solicitation.

PPC KEYWORD BIDDING: Affiliates that among other keywords or exclusively bid in their Pay-Per-Click campaigns on keywords such as Electronicx.de, Electronicx,
www.Electronicx
, www. Electronicx.de, Electronicx.de, Electronicx, www.
Electronicx, www.Electronicx.de, and/or any misspellings or similar alterations of these – be it separately or in combination with other keywords – and do not direct the traffic from such campaigns to their own website prior to re-directing it to ours, will be considered trademark violators, and will be banned from Electronicx's Affiliate Program. We will do everything possible to contact the affiliate prior to the ban. However, we reserve the right to expel any trademark violator from our affiliate program without prior notice, and on the first occurrence of such PPC bidding behavior.

Service Areas: France, Nicaragua, Saint Helena, Svalbard and Jan Mayen, Micronesia, Federated States of, Honduras, Lao, People's Democratic Republic, Romania, Myanmar, Antarctica, Benin, Lithuania, Colombia, Congo, Saint Pierre and Miquelon, Burkina Faso, Sweden, Italy, Rwanda, Falkland Islands, Puerto Rico, French Guiana, Virgin Islands, U.S., Israel, Costa Rica, Pitcairn, Cayman Islands, Burundi, Cape Verde, Tonga, Mozambique, Bahrain, Armenia, Maldives, Vanuatu, Barbados, Iceland, Bolivia, Serbia, Austria, Macedonia, The Former Yugoslav Republic of, Somalia, Togo, Croatia, Korea, Democratic People's Republic of, Guinea, Paraguay, Guyana, Syrian Arab Republic, Guadeloupe, Philippines, French Southern Territories, Oman, Grenada, Andorra, Kuwait, Central African Republic, South Africa, Virgin Islands, British, New Zealand, Albania, Lebanon, Argentina, Ukraine, Haiti, United Kingdom, Kyrgyzstan, Hong Kong, Comoros, Uganda, Cook Islands, Cote d'Ivoire, Tunisia, Papua New Guinea, Cuba, French Polynesia, Holy See (Vatican City State), Curacao, Spain, Turkmenistan, Vietnam, China, Antigua and Barbuda, Zambia, Trinidad and Tobago, Cameroon, Samoa, Nepal, Hungary, Congo, The Democratic Republic of the, Slovakia, Guatemala, Cambodia, Malta, Sao Tome and Principe, Marshall Islands, Namibia, Brunei Darussalam, Botswana, Uzbekistan, Algeria, Pakistan, Belarus, American Samoa, Georgia, Latvia, Mongolia, Martinique, Taiwan, Czech Republic, Iran, Islamic Republic of, El Salvador, Guernsey, Montenegro, Cyprus, Jordan, Tokelau, Bosnia and Herzegovina, Bermuda, Kiribati, Liberia, Djibouti, Mexico, Greenland, Poland, Guinea-Bissau, Gibraltar, Yemen, Suriname, Kazakhstan, Indonesia, Solomon Islands, Morocco, Montserrat, Denmark, Belgium, Monaco, Ecuador, Swaziland, Angola, Ireland, United Arab Emirates, Panama, Switzerland, Sudan, Northern Mariana Islands, Libyan Arab Jamahiriya, Portugal, Netherlands, Belize, Finland, Madagascar, Gabon, Guam, Iraq, Senegal, Estonia, Tuvalu, Palau, Russian Federation, Turks and Caicos Islands, Dominica, Bangladesh, Ghana, Tajikistan, Canada, Korea, Republic of, Luxembourg, Saint Vincent and the Grenadines, San Marino, Faroe Islands, Peru, Saint Kitts and Nevis, Chad, Niue, Zimbabwe, Timor-Leste, Western Sahara, Azerbaijan, Turkey, Palestinian Territory, British Indian Ocean Territory, Cocos Islands, Aruba, Mali, Uruguay, Equatorial Guinea, Slovenia, Bulgaria, Anguilla, Chile, Eritrea, Tanzania, United Republic of, Thailand, Singapore, Sri Lanka, Niger, Brazil, Australia, Nigeria, Ethiopia, Malawi, Liechtenstein, Saudi Arabia, Germany, Bahamas, Nauru, Malaysia, Jamaica, Kenya, Qatar, Norfolk Island, Mauritius, Sierra Leone, Lesotho, United States, Christmas Island, Macau, New Caledonia, Dominican Republic, Mayotte, Seychelles, Réunion, Saint Lucia, Venezuela, Mauritania, Gambia, Bhutan, India, Wallis and Futuna, Moldova, Republic of, Fiji, Egypt, Afghanistan, Japan, Norway, Greece
Read More
Read Less
About Electronicx Campaign
Read More
Read Less