Reading Time:
8
minutes
When it comes to content, Indians love videos. This is proven by the fact that as of December 2017, 10 years after entering India, YouTube has touched 225 million monthly active users on mobile alone. That means, YouTube is already reaching 80% of all Indians who are online, and it reaches 85% of all the highly engaged online users currently.
Citing a report by FICCI EY, YouTube itself claims that the number of online video consumers is expected to reach 500 million by 2020. Thus, it's no small wonder that nowadays most online entrepreneurs prefer v-logging rather than blogging. From just 16 channels in 2014, YouTube today has more than 300 channels which have more than 1 million subscribers. And this is because where there's traffic, there's money.
According to Social Blade, the estimated YouTube monthly earnings of Amit Badhana, who currently has 6.8 million subscribers on his YouTube channel, could be anywhere between $12.8K to $204.5K. That is definitely a very large range, but even if you consider the lowest extreme, it is still a great figure.
So how do these successful YouTubers make money from their YouTube channels? The first thing you need for this is quality video content. If you have that then you can make  money on YouTube in a number of ways given below:
Selling Products or Merchandise
Working with Brands as Influencers
Sponsorships and Product Placements
Advertising Revenue
Google bought YouTube in 2006 and made it easy for YouTubers to sign up and run ads on their videos via Google AdSense. However, to be eligible to monetise/ run ads on your YouTube channel (as of 18 February 2018), your channel needs to have 1000 subscribers and 4000 watch hours in the previous 12 months.
Once your channel becomes eligible for monetization, you need to associate it with your AdSense account to get paid. You can allow Google to run Overlay in-video ads, skippable ads and banner ads on your videos. The ads shown to a viewer depends on their browsing history.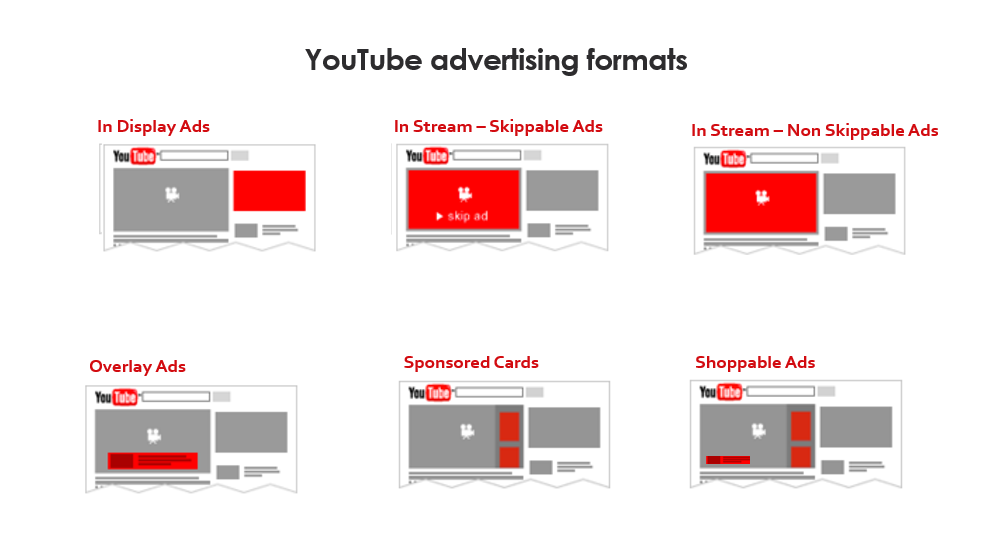 How much money do YouTubers make via ads depends on various factors like niche of the video, audience type, audience age, click through rates etc. The CPM rates for entertainment niche in India is around $1 to $3, while that for education is $0.5 to $2 and CPM for tech niche can be as high as $5.
Your YouTube earnings via ad revenue depend on how many viewers you get for your videos and the ads running on them. Also, YouTube keeps around 45% share of the ad revenue and only pays out when your ad revenue reaches $100. Unless you don't reach that threshold, you won't get any money.
YouTube Partner Program
The moment you monetise your content you become a YouTube Partner. As a YouTube partner you get a lot of tools that make it easier for you to earn money.
It gives you in-depth analytics of your audience i.e. you can know the gender, age, geographic location of your audience and how they engage with your videos. Using this knowledge, you can tailor your content to better suit your audience and also work with brands.
You also get other benefits like custom thumbnails which can help you attract more viewers, ability to broadcast a Hangout, and better community support. More importantly, as a YouTube Partner you get the exclusive copyright of your original videos i.e. videos created by you from scratch. Then you are allowed to upload your videos on other platforms too. If you are not a partner, then YouTube has the right to use your videos as they seem fit.
Joining MCN – Multi Channel Network
If you have a decently successfully YouTube channel, one way to increase your YouTube earnings is to join a Multi-Channel Network. In simple words, an MCN is an organization that partners with a great number of YouTube channels and other video sharing platforms to offer various services to content creators like you. These services include a great video editing tool, clean and responsive dashboard, digital rights management, monetisation, cross promotions, product development, sponsorship collaboration, target audience development, influencer marketing opportunities etc.
Different MCNs offer different types of services. E.g. some offer royalty free music that you can use for background sound, some offer royalty free videos, others offer a dedicated design team for channel art and custom illustrations, yet others offer GFX templates and so on.
However, before joining an MCN you must consider a few things. The first is lock-in period i.e. the minimum period for which you have to stay with a network, whether you find it beneficial or not. If you join an MCN that has lock-in period of one year, you cannot terminate your contract with them for the next 12 months. Thus, it's always better to join an MCN that has no or very short lock-in period.
Another important thing is the revenue sharing and payout threshold. MCNs are preferred over YouTube Partner Program because they offer better revenue shares. You can easily get around 70% to even 90% of the ad revenue you earn with MCNs. It is open to negotiation. Also, most MCNs have no minimum payout thresholds. You can choose to get your payment even if you earn just $1.
Freedom India is one of the best MCNs in India. Apart from this there are many international ones like Zoomin, Mediacube, Hashtag.
Selling Products or Merchandise
Selling your own products or merchandise is another way to convert your YouTube views to money. If you have a solid fan base, they will be quite willing to buy merchandise like t-shirts, coffee mugs, bags, etc. from you. However, you have to be careful that it does not alienate your audience; your content should still be genuine.
Selling your own merchandise also brings you more than money, it gives your channel and brand greater exposure, better recall value and strengthens the relationship between your fans and you.
Affiliate Links
Promoting affiliate links through your videos is one of the simplest answers to how to make money on YouTube. Simply put, affiliate marketing is promoting other's products and services in return of a commission on the sales made via you. If you need an introduction to affiliate marketing, this Ultimate Guide to Affiliate Marketing can help you.
If you just randomly put a link of a product/ service/ website in your video description and tell your viewers to click it and go buy something, then neither you nor the website will be able to know that the visitor was sent from your channel.
Thus, some parameters need to be added to the link to know where the visitors came from so that the credit and commission for any sale that takes place can be passed on to the right person. Such a link is called affiliate link. If any of your viewers clicks the affiliate link given on your channel and makes a purchase, then you will get a commission on it.
The easiest way to create and promote affiliate links via your YouTube channel is to sign up with Cuelinks. Once your account gets approved by Cuelinks, you are eligible for affiliate program of hundreds of Indian and international stores partnered with Cuelinks. So, you have a wide range of merchants to choose from while Cuelinks takes care of link tracking, management, reporting and payments for you.
Here's a video explaining how you can use Cuelinks to make money on YouTube with affiliate marketing:
So, you can do a review or make informative or educational videos of various products and services and give affiliate links of those products/ services in the description of the video or place them on the video itself. To make your life easier, Cuelinks brings you the Cuelinks Link Kit and/ or the Cuelinks Google Chrome extension to create affiliate links of products and services without much hassle.
Once downloaded and installed on your browser, the Cuelinks Google Chrome extension pops up every time you visit a site and reminds you to make an affiliate link of it.
You can find the Cuelinks Link Kit on the left-hand panel of your account dashboard under Resource Center. You simply have to copy paste the product/ service/ merchant link here and convert it into your affiliate link.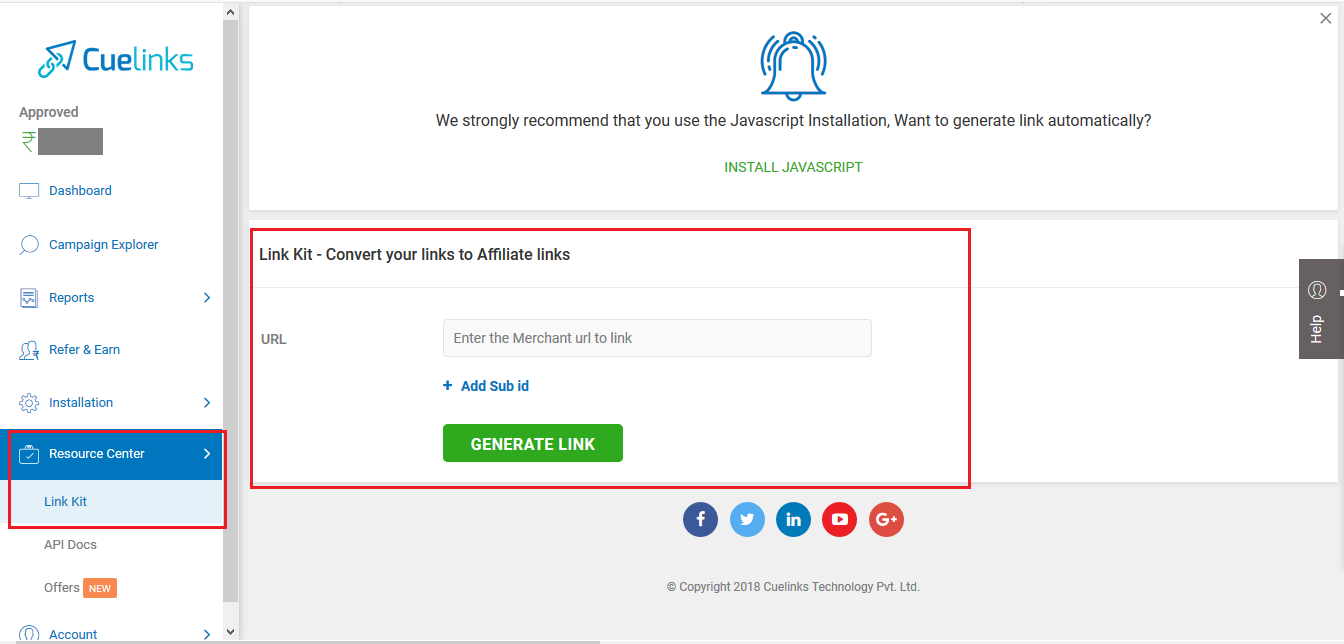 However, while promoting affiliate links on your channel make sure you tell your users about it and your videos should still provide value to your users. Your channel should be primarily about entertaining and/ or informing your users, not for promoting affiliate links.
The amount you earn on every click/ sale/ install via an affiliate link is generally higher than what you get from AdWords because you are only paid for the actual sales made via your channel. Also, in some cases you can keep earning recurring commission on subsequent purchases by customers who sign up with a merchant via your affiliate link.
Working with Brands as Influencers
The loyalty of your audience is a great bankable asset in itself, what with brands now investing large advertising budgets in influencer marketing. Since your audience already listens to you and believes you, brands will be ready to pay you to promote their products and services in your videos.
Depending on your subscriber base, viewership, audience demographics, content quality and profitability of your niche; you can negotiate a great deal with brands that are a good fit for your viewers. Mid-level YouTubers charge anywhere between Rs 20,000 to Rs 50,000 per video.
One important thing to remember while promoting brands as an influencer is that you must only talk about products and services that you use and / or believe in.
To get discovered by brands, you can be part of some influencer marketplaces like Influencers.in, GetEvangalised, Vuroll etc. Some marketplaces let you sign up for free, while some offer paid membership and bring you closer to bigger brands. Put yourself up on as many marketplaces as possible to get maximum visibility for your channel.
Crowdfunding/ Fan funding
By now you must have realized how to earn money from YouTube is largely dependent on how large your audience base is and how good and useful your content is. If you have made a mark for yourself as a YouTuber and consistently created worthwhile content, you may consider asking your fans and general public to fund you.
Whether it is your next video, or new equipment you need, or a new product idea; you can ask your viewers, fans and the general crowd to pitch in. There are crowdfunding and fan funding platforms which help content creators reach people who would be willing to fund good ideas/ projects, even on an ongoing basis. Patreon, Tipee, BitGiving, Dream Wallets, Catapooolt, TheHotStart are some crowd funding platforms you can join.
In 2017, YouTube phased out YouTube Fan Funding and introduced Super Chat in Live Streams. This is a new way in which fans and creators interact during live stream videos. Super Chats are messages that fans can buy in a live chat stream. They are highlighted with a colour and pinned in the ticker for a set period of time. For YouTuber content creators, Super Chat is a way of knowing who their most engaged fans are and it is a new way of earning revenue.
Launching New Products
This is next level of influencer marketing, where brands tie up with you not just to promote a product but to launch a new one. This is possible only when you have a really solid subscriber base.
You may also earn money from YouTube by coming up with your own ancillary products like a book or a course which you can sell on other platforms. Your success and knowledge as a YouTuber also attracts paid opportunities to speak at conferences on YouTube marketing.
Sponsorship and Product Placements
When you have grown big enough; sponsorship opportunities come along as the last answer to how to earn money on YouTube. If companies believe your content and audience is relevant to their business, they will offer to sponsor your videos or even your channel. The larger the audience you have, the better sponsorships you will attract.
Some brands may even approach you just for using their products in your videos. This is called product placement. It could be simply wearing a branded t-shirt or shoes. If you recommend these brands while using them in your videos, it becomes an endorsement
As a principle, you must always let your audience know about your sponsorships.
Do you have any other ideas on how to make money through YouTube? Do share them with us in the comment section.