Platform where tracking is available
Jabra Payout Categories
Category
Payout
Join Cuelinks


To unlock category wise payout

Jabra Move Wireless EAR CUSHIONS, JABRA SPORT PACE ACCESSORY PACK, JABRA SPORT PACE ACCESSORY PACK, JABRA SPORT PACE ACCESSORY PACK, JABRA HALO FUSION ACCESSORY PACK, JABRA STEEL EARGEL PACK, JABRA MOVE EAR CUSHIONS, GOLD, JABRA MOVE EAR CUSHIONS, BLUE, JABRA MOVE EAR CUSHIONS, RED, JABRA TAG, JABRA PLAY, JABRA STEP WIRELESS, JABRA SUPREME COMFORT KIT, JABRA MINI, JABRA STYLE, JABRA STYLE, JABRA WAVE, JABRA DRIVE, JABRA CLEAR, JABRA PLAY, JABRA DRIVE, JABRA EXTREME2, JABRA EXTREME2, JABRA EXTREME2, JABRA SPORT - CORDED, JABRA WAVE - CORDED, JABRA CLEAR, JABRA TALK, JABRA REVO WIRELESS AUDIO CABLE, JABRA CAR CHARGER, JABRA EXTREME2 ACCESSORY PACK, JABRA REVO EAR CUSHIONS, JABRA REVO WIRELESS AUDIO CABLE, Jabra Accessory Pack for Classic & Mini, JABRA REVO EAR CUSHIONS, JABRA MOTION EARGEL PACK, JABRA STONE EARGEL PACK, JABRA SOLEMATE AUDIO CABLE, JABRA REVO WIRELESS Protective Bag, JABRA ROX EARGEL PACK, JABRA ROX PROTECTIVE BAG, JABRA REVO WIRELESS USB CABLE, JABRA SOLEMATE AUDIO CABLE, JABRA SPORT+ PROTECTIVE BAG, JABRA ROX EARGEL PACK, JABRA REVO WIRELESS USB CABLE, JABRA REVO WIRELESS USB CABLE, JABRA SOLEMATE Protective Sound Bag, JABRA SOLEMATE AUDIO CABLE, JABRA SPORT+ EARGEL & FITCLIP PACK, JABRA SOLEMATE AUDIO CABLE, JABRA REVO WIRELESS AUDIO CABLE, JABRA STYLE ACCESSORY PACK, JABRA VOX EARGEL PACK, JABRA SUPREME HEADBAND, JABRA USB CABLE, JABRA WAVE ACCESSORY PACK, JABRA MAINS CHARGER, JABRA STYLE Accessory Pack, JABRA LINK 360, JABRA TOUR, JABRA STEALTH ACCESSORY PACK, JABRA STORM, JABRA SOLEMATE SOLE PACK, JABRA EVOLVE 20 UC MONO, JABRA EVOLVE 20 MS MONO, JABRA EVOLVE 40 MS MONO, JABRA EVOLVE 20 UC STEREO, JABRA EVOLVE 20 MS STEREO, JABRA EVOLVE 40 UC MONO, JABRA STORM ACCESSORY PACK, JABRA EVOLVE LINK MICROSOFT LYNC, Jabra EVOLVE Link UC, Jabra EVOLVE 40 Mono headset, Jabra EVOLVE 40 Stereo headset, JABRA EVOLVE 80 LEATHER EAR CUSHIONS, JABRA EVOLVE 30 MS MONO, JABRA EVOLVE 30 UC MONO, JABRA EVOLVE 30 MS STEREO, JABRA EVOLVE 30 UC STEREO, Promotional 3 Months FREE Spotify Premium Membership, JABRA BT2045 ACCESSORY PACK, JABRA MOVE AUDIO CABLE, JABRA SPORT+ ARMBAND, Free 12 months of Endomondo Premium, JABRA BOOST, JABRA BOOST, JABRA SOLEMATE MAX WALL CHARGER, JABRA SPORT PULSE WIRELESS ACCESSORY PACK, JABRA SPORT PULSE WIRELESS PROTECTIVE BAG, JABRA SPORT ROX ACCESSORY PACK, Jabra ROX WiRELESS USB Charger, JABRA EASYGO ACCESSORY PACK, Jabra Boost accessory pack, Jabra Boost accessory pack, Jabra XPRESS, JABRA ECLIPSE EARGEL PACK, Jabra (new locale work PID), JABRA RHYTHM ACCESSORY PACK, JABRA SPORT COACH WIRELESS ACCESSORY PACK, JABRA SPORT COACH WIRELESS ACCESSORY PACK, JABRA SPORT COACH WIRELESS ACCESSORY PACK, JABRA GN8000 QUICK DISCONNECT (QD) COILED BOTTOM CORD, BPU TEST, JABRA DUAL CAR CHARGER, JABRA ECLIPSE CHARGING CASE, JABRA ECLIPSE CHARGING CASE, Jabra GN 8210 Power Supply, JABRA EVOLVE 20-65 FOAM EAR CUSHION, JABRA BT2045, JABRA RHYTHM, JABRA FLIGHT ADAPTER, JABRA MINI, JABRA EVOLVE 20-65 LEATHER CUSHION, JABRA EVOLVE 20-65 NEOPRENE POUCH, Item Name, Jabra Elite Sport Accessory Pack, Jabra Elite Sport Charging Case, Jabra SUPERVISOR cord w. mute, Jabra Elite Sport Right Earbud, Jabra Mobile Cord, QD to 3.5mm w. PTT, Jabra Halo Free Accessory Pack, Jabra GN1000 Headset Lifter (AU), JABRA HALO SMART ACCESSORY PACK, BLACK, Jabra Cord 2m Coiled, QD cord, mod plug, COMPLY� FOAM TIPS - MIXED, Jabra BIZ 2400 Headband Cushion, JABRA HALO SMART ACCESSORY PACK, JABRA VEGA AUDIO CABLE, 1 BUTTON, JABRA MAINS CHARGER (UK), JABRA HALO SMART ACCESSORY PACK, Jabra SPORT+ USB Charging Cable, Jabra Elite Sport Left Earbud, JABRA MAINS CHARGER (EU), Jabra GN1000, Jabra GN1200, JABRA SPORT-CORDED EXTENSION CABLE, JABRA ACTIVE ACCESSORY PACK, JABRA BT2080 ACCESSORY PACK, JABRA CHILL ACCESSORY PACK, JABRA Step Wireless ACCESSORY PACK, Jabra DIAL� 550, JABRA UC VOICE 250, JABRA UC VOICE 250 MS, JABRA CLASSIC, JABRA CLASSIC, Jabra BT2046, JABRA CAR CHARGER, Jabra Tag White, JABRA CLIPPER, Jabra CLIPPER Turquoise, Jabra CLIPPER White, JABRA EASYGO, JABRA BIZ 2300 LEATHER EAR CUSHIONS, JABRA BIZ 2400 EAR CUSHIONS, JABRA BIZ 2400 EARHOOK, JABRA BIZ 2400 NECKBAND, JABRA BIZ 2400 EARGELS, JABRA BIZ 2300 FOAM EAR CUSHIONS, JABRA ACTIVE, JABRA CHILL, Jabra CHILL White, Jabra RHYThM, Jabra LINK 180, Jabra LINK 230 USB adapter, Jabra LINK 360 MS Adapter, Jabra GN 2100 Microphone Tip, JABRA MICROPHONE COVERS, JABRA gn2000 Microphone Cover, JABRA GN2000 FOAM EAR CUSHIONS, Jabra GN2100 Foam Ear Cushions, Jabra GN2100 Leather Ear Cushions, JABRA GN2100 HEADBAND, JABRA GN 2100 NECKBAND (RIGHT EAR), JABRA GN 2100 EARHOOK, Jabra PRO 9400 Headset Charger, JABRA PRO 9400 BATTERY, JABRA PRO 900 WALL CHARGER, JABRA GN9120 EARHOOK, JABRA GN 9120 WALL CHARGER, JABRA MOTION USB CHARGER, JABRA MOTION HEADSET POUCH, JABRA MOTION TRAVEL AND CHARGE KIT, JABRA PRO 9400 WALL CHARGER, JABRA PRO 9400 HEADBAND, Jabra_REVO_WIRELESS_audiocable_Orange, JABRA PRO 900 USB CABLE, Jabra GN 2100 Neckband (left ear), JABRA MOTION EARGEL PACK, Jabra GN 9120 Battery with Screwdriver, Jabra BIZ 2300 Clothing clips, JABRA PRO 900 LEATHER EAR CUSHIONS, JABRA CLOTHING CLIP, jabra_stone_clothing_clip, JABRA UC VOICE 550 LEATHER EAR CUSHIONS, Jabra SPEAK Holder, JABRA UC VOICE 750 LEATHER EAR CUSHIONS, JABRA SUPREME EAR GELS/EAR HOOKS, JABRA SPORT WIRELESS+ ACCESSORY PACK, JABRA GENERIC POUCH, JABRA UC VOICE 750 WIND FILTER, JABRA LEATHER EAR CUSHIONS Jabra UC VOICE 250 Ear Gels, JABRA EARHOOK, JABRA LEATHER EAR CUSHION, Jabra gn2100 Microphone Cover, JABRA WALL CHARGER, JABRA POUCH, JABRA NECKBAND, Jabra Earplate, JABRA UNIVERSAL PHONE ARMBAND, JABRA HEADSET HANGER FOR PC, JABRA PRO 900 HEADBAND, JABRA HEADSET HANGER, JABRA LEATHER EAR CUSHIONS, JABRA PRO 9400 WIND FILTERS, JABRA CLASSIC, JABRA CLIPPER, JABRA BT2045, Jabra ACTIVE, Jabra ACTIVE, Jabra JOURNEY, JABRA QUICK DISCONNECT (QD) TO 2.5 MM JACK CORD, Jabra Quick Disconnect (QD) to Modular (RJ) Coiled Bottom Cord, 2 meter, Jabra Cable, JABRA SUPERVISOR QUICK DISCONNECT (QD) CORD, Jabra 2 prong Conversion Plug, Jabra GN1000 Headset Lifter, Jabra BIZ 2400 Headband (Mono), Jabra LINK 14201-09, Jabra LINK 14201-10, Jabra Phone Cable, Jabra PRO 900 Mini USB Cable, Jabra LINK 14201-17, Jabra LINK 14201-19, Jabra LINK 14201-20, Jabra LINK 14201-22, USB to micro USB cable, Jabra LINK 14201-30, Jabra LINK 14201-31, Jabra LINK 14201-32, Jabra LINK 14201-33, Jabra LINK 14201-35, Jabra LINK 14201-36, JABRA LINK 14201-40, JABRA LINK 14201-41, Jabra Busylight, JABRA SUPERVISOR QUICK DISCONNECT (QD) CORD, Jabra Coiled Quick Disconnect (QD) Extension Cord, 2 meter, Jabra Coiled Quick Disconnect (QD) PC Cord with 2x 3.5 mm Jack, Jabra Quick Disconnect (QD) to 3.5 mm Jack Cord, Jabra Quick Disconnect (QD) to 3.5 mm Jack Cord, with Push-To-Talk, Jabra Quick Disconnect (QD) Straight Bottom Cord, 0.5 meter, Jabra Quick Disconnect (QD) Straight Bottom Cord, 0.5 meter, Jabra LINK 180 Quick Disconnect (QD) Straight Bottom Cord, Jabra Quick Disconnect (QD) to 2.5 mm Jack Cord, Jabra Quick Disconnect (QD) to 2.5 mm Jack Cord, with Push-To-Talk, Jabra Modular (RJ) to 2.5 mm Jack Cord, Jabra Quick Disconnect (QD) to 2.5 mm Jack Cord, with Push-To-Talk, Jabra Quick Disconnect (QD) to 3.5 mm Jack Cord, with Push-To-Talk, Jabra Quick Disconnect (QD) to Modular (RJ) Straight Bottom Cord, 0.5 meter, Jabra Quick Disconnect (QD) to 3.5 mm Jack Cord, Jabra Quick Disconnect (QD) to Modular (RJ) Coiled Bottom Cord, 2 meter, Jabra Quick Disconnect (QD) to 2.5 mm Jack Coiled Cord, 2 meter, Jabra Quick Disconnect (QD) to Modular (RJ) Balanced Coiled Bottom Cord, 2 meter, Jabra Quick Disconnect (QD) to Modular (RJ) Coiled Bottom Cord, 2 meter, Jabra GN1216 Avaya Cord, Jabra GN1216 Avaya Cord, JABRA SMART CORD FOR GN1200, Jabra GN1200 CC, Jabra Switch, JABRA EVOLVE 80 LINK MS, JABRA EVOLVE 80 LINK UC, JABRA ELITE SPORT EARBUD (LEFT), Comply™ Foam Tips - Small, JABRA ELITE SPORT EARBUD (RIGHT), JABRA VEGA PROTECTIVE POUCH, Comply™ Foam Tips - (S, M & L), JABRA MINI Outdoor Edition, JABRA ELITE SPORT ACCESSORY PACK, VXi 1026-V QD Cord, Jabra Elite Sport Earbud,Right

Join Cuelinks


To unlock category wise payout
Load More

Generate Your Jabra Affiliate Link
What is Affiliated Link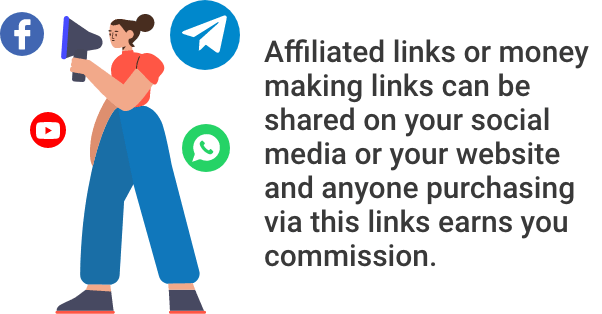 Media Allowed/Disallowed
---
Allowed Media
Disallowed Media
Deals
Coupons
Cashback, Reward Points, Incentives, Charity
Email (Text)
Custom Email (Text)
Email (HTML)
Custom Email (HTML)
POP Traffic
Native Ads
Social Media
Facebook Ads
SEM - Brand Keyword(s)
SEM - Generic Keyword(s)
SEM - Brand + Generic Keyword(s)
Important Information for Jabra Program
Tracking Details:
Web Site - Prohibited Web Site Content -
Not to promote products using spam or unsolicited commercial email. The Affiliate represents and warrants the following provisions: (a) each addressee on an e-mail list has opted- in to receive emails from the Affiliate; (b) upon request by, the Affiliate will promptly provide verified opt-in statuses for all recipients of all current mailing lists used to promote products; (c) each e-mail sent by the Affiliate will contain clear instructions for addressees to unsubscribe from receiving future e-mails. The Affiliate must not use the brand name or typos in the "From" address line. All Affiliate email correspondence must contain the Affiliates email addresses.


Coupons and Promotional Codes -
Publishers may use any coupons or promotional codes that are provided through the affiliate program or otherwise available to the public

Any promotional ad text or campaign deemed to be inaccurate or misleading by Jabra
Search Campaigns - Direct Linking - No
Jabra campaign does not help with the missing transactions.

Tracking
- Online
Search Campaigns - Protected SEM Bidding Keywords

Please see below for Special Instructions for Search Marketing Publishers
Search Campaigns - Prohibited SEM Display URL Content

Affiliates may not use any official domains in their Ad Text, or claim to be Jabra or any of the Jabra official eStores
Search Campaigns - Prohibited SEM Ad Copy Content

Affiliates must remain below Jabra's own paid search ad at all times, and may not direct link from search engine marketing campaigns to any Jabra official website
Search Campaigns - Special Instructions for Search Marketing Publishers - Affiliates must be approved by Jabra and the Program Manager to be able to bid for search engine traffic using the terms "Jabra", or similar Jabra marks. To request approval, please contact
[email protected]
and quote 'SEM request' in the subject line. Approval is not guaranteed and is subject to availability and the ability of the Affiliate to add value as per the Program requirements and Program Manager's discretion. An Affiliate may submit multiple requests. Any Affiliate who has been denied permission to bid on Jabra branded terms, and continues to bid on Jabra branded search engine traffic may be terminated from the Program.
Web Site - Unacceptable Web Sites - Not to use a web site that is confusingly similar to the official Jabra website, or which may mislead third parties into thinking the Affiliate is Jabra or an official partner of Jabra. This includes copying and framing any of the Jabra web pages. The Affiliate further agrees not to promote himself in a way that may mislead third parties into thinking the Affiliate is Jabra or an official partner of Jabra. Not to engage in typo-squatting, or own a typo domain. Domain names must not include or use misspellings of "Jabra" e.g.
www.jabrastore.com
. Misspellings of domains include those with missing characters, extra characters, wrong character sequences, and where the wrong key is pressed, e.g.
www.jbra.com
etc. Not to own a domain which includes a Jabra trademark or registered trademark. Domains containing the registered trademark "Jabra" are strictly prohibited. Not to use sites under construction, sites that show or cause any type of error, doorway pages, sites or pages with automatic redirects. Not to operate or utilize a website, or email a link to a website, which contains or promotes the following types of content: libelous, defamatory, obscene, abusive, violent, bigoted, hate-related, illegal, cracking, hacking, anti-brand messaging or that offer illegal goods or services. Not to use copycat sites, or use any content or images from any Jabra websites, except for content and images which have been expressly allowed for use by Affiliate partners. The Affiliate may use the links and/or banner ads Jabra provides to Affiliate Partners only in the form in which they are provided. Subject to the limitations contained herein, the Affiliate may place such links and/or banner ads on their own website in whatever location the Affiliate prefers. Affiliates must not hardcode creative/logos but should use those supplied in the affiliate network interface.
Read More
Read Less
About Jabra Campaign
Jabra is a global producer of innovative headset and speakerphone solutions. We enable effortless communication for mobile users, office-based and contact center employees in all parts of the world.
Read More
Read Less